Demonstration looms on Tema motorway over deadly potholes
Motorists and pedestrians want to demonstrate against the government for doing absolutely nothing about the road maintenance.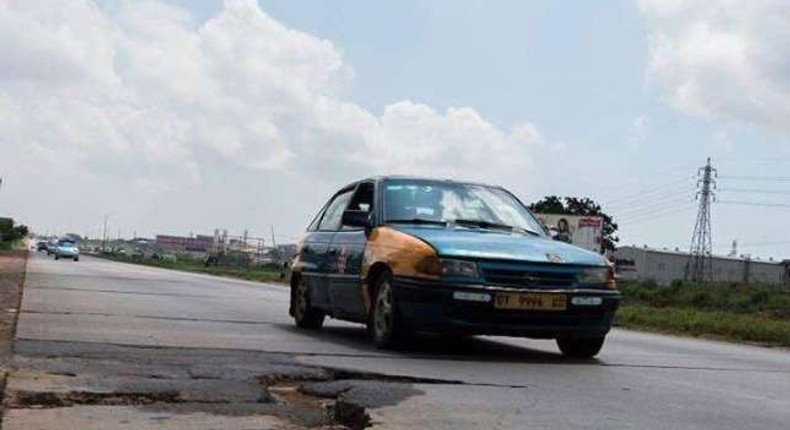 Motorists and pedestrians will soon take to the street to protest over the fatal potholes on the
The state of the Accra-Tema motorway can be described as criminal negligence of the highest order on the part of those responsible for its maintenance.
The Tema motorway has deteriorated and now a death trap with high traffic growth and encroachment.
The government has neglected the maintenance of the motorway to the extent that potholes on the roads have now become death traps and claiming the lives of motorists and pedestrians here and there.
Ghanaians who ply the road are angry has threatened not to pay toll again until the potholes are fixed.
The outrage come at the back of residents along the Madina-Adenta Highway who took to the street linking the suburb to Aburi to burn tyres and obstruct traffic in protest over the rampant fatal knocking down of pedestrians by motorists.
So far, 195 people have been killed on the highway that has no road signs and functioning street lights since it was constructed about a decade ago.
ece-auto-gen
The action followed the death of the second person, who was knocked down by a speeding vehicle yesterday on the Adenta-Tetteh Quarshie Highway, a few days after an earlier one.
ece-auto-gen
The young student of the West African Senior High School was crossing the highway after going to complete formalities for the gold track segment of the double track system when he was fatally knocked down by a speeding vehicle.
ece-auto-gen
Get our Top Stories delivered to your inbox
Recommended articles
9-day groom market where women go to buy bachelors
KKD's comments on Ken Ofori-Atta was misplaced – Adom-Otchere
Ghana's economy has collapsed due to Akufo-Addo's historic poor leadership – Sulemana
Where are the missing 500 missing excavators? — NDC's Prince Henry asks gov't
Ken Ofori-Atta must be arrested for the current economic mess – Arise Ghana
I have abiding faith in God to turn the fortunes of Ghana around — Nana Addo
KKD's comments on Ken Ofori-Atta were borne out of envy, jealousy – Adom-Otchere
Ethiopian Airlines flight misses landing as pilots fall asleep
EOCO denies Nigerian 'sakawa kingpin' Sunny Awamini on Interpol list bail