Today's Front Pages
Here are today's newspaper headlines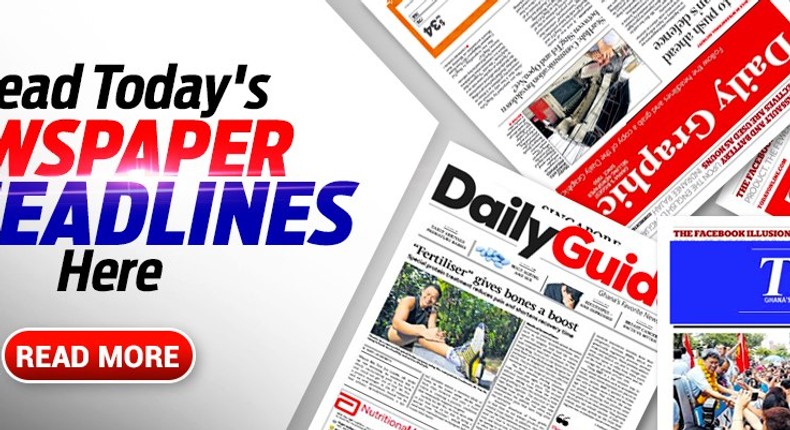 Ghana's economy faces downside risk and a severe battering from the slump in commodity prices on the world market, which could put the fiscal gains made over the last few months into disarray, as a further increase in the current account deficit would reduce an already low reserve buffer and trigger increased exchange rate pressure, the report card of the IMF assessment economy has predicted.
GNPC NOT FOR STOCK MARKET
GNPC is not considering listing  on the stock exchange, and even if it wanted to, it would have to be changed from a corporation to company, its CEO, Alex Mould said in reaction to calls for the state-owned oil company  to list on the bourse.
GOVT SWEATS OVER EXTERNAL ARREARS DEFAULT
Government incurred the displeasure of the International Monetary Fund when it defaulted in its obligation to an unnamed Spanish creditor, contrary to the Fund's condition of non-accumulation of external arrears.
IT'LL BE ONE-TOUCH, MAHAMA PROMISES VICTORY IN 2016
President John Mahama yesterday laid claim to a second term bid in office when he submitted his nomination forms at the National Democratic Congress (NDC) headquarters to contest the party's presidential slot, with a declaration to clinch a one-touch victory for the party in the 2016 general election.
I'VE BEEN SIDELINED BY AIDES OF AKUFO-ADDO – KWABENA AGYEPONG
GHANA, NIGERIA RENEW TIES
NANA VRS MAHAMA: 2016 BATTLE BEGINS
President John Dramani Mahama yesterday filed to contest the 2016 elections on the ticket  of the National Democratic Congress (NDC), setting the stage for another electoral duel with the New Patriotic Party flagbearer, Nana Addo Dankwa Akufo-Addo.
Nigerian strongman President Muhamadu Buhari yesterday paid a one-day working visit to Ghana. He touched down at about 10 am at the Kotoka International Airport where he inspected a guard mounted in his honour.
STOP RADIO WAR – AKUFO-ADDO
GNPC SHOULDN'T BE LISTED – ALEX MOULD
The Chief Executive Officer of the Ghana National Petroleum Corporation  (GNPC), Mr Alex Mould, has disagreed with suggestions that the government should convert the corporation into a limited liability company and subsequently float part of its 100 per cent shares on the Ghana Stock Exchange (GSE) in return for capital.
EXIM BANK TO START Q1 NEXT YEAR
The Ministry of Finance is pushing for the passage of legalization of establish the export and import (EXIM) Bank as well as the Ghana Infrastructure and Investment Fund (GIIF) by the first quarter of next year.
NHIS SET FOR MAJOR REVAMP; MINISTER TO MAKE ANNOUNCEMNT IN DAYS
President John Dramani Mahama has endorsed plans for a comprehensive review of the entire National Health Insurance Scheme (NHIS) which has been bedeviled with funding and operational challenges.
JOIN OUR PULSE COMMUNITY!
Recommended articles
Go and complete the E-block yourself if you're tired – Akufo-Addo to Aflao Chief
35-year-old woman commits suicide after husband grabs new lover
I made a mistake on Cape Coast harbour - Nana Addo
Accra is the second most expensive city in the world – Survey reveals
Transport fares may go up soon - GPRTU hints
Mahama won the 2020 elections but it was "shamefully stolen" – Chief
NPP is considering Ursula Owusu as running mate for 2024 elections – Kwesi Pratt
It was nonsensical to misinterpret Mahama's 'do or die' comment - Chief
Our culture doesn't accept LGBTQ+ - Nana Addo told