Today's Front pages
Here are today's newspaper headlines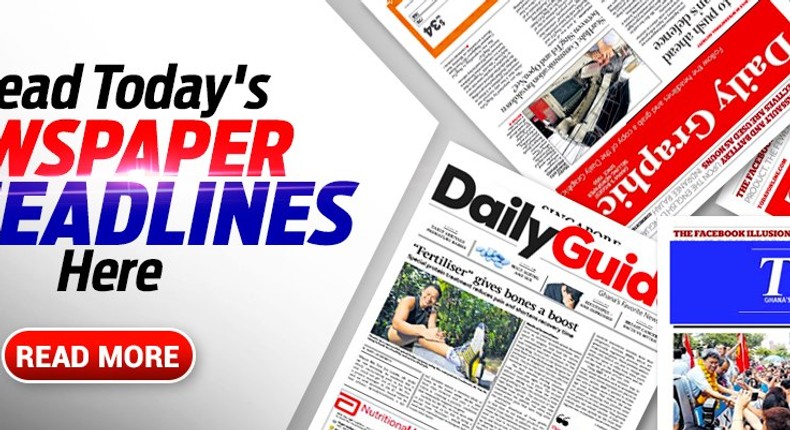 ANAS JUDGE FREED; EVIDENCE NOT SUFFICIENT TO MEET PRIMA FACIE TEST
One of the judges cited in the Anas exposé, Justice Asmah Akwasi Asiedu, has been let off the hook due to insufficient evidence that he engaged in the corrupt act.
COURT ORDERS DKM FINANCE TO REFUND DEPOSITS
The Sunyani Magistrate's Court Wednesday ordered DKM Diamond Micro Finance Company Limited to submit its schedule to refund deposits made by its numerous customers to the court on Friday, November 13, 2015.
ACCUSED COURT CLERK WANTS ANAS UNMASKED
One of the court clerks implicated in the judicial scandal wants his antagonist, Anas Aremeyaw Anas, unveiled.
A High Court judge implicated in the Anas investigative exposé has been set free. The Chief Justice, Georgina Theodora Wood, dismissed the bribery and corruption allegations against Justice Asmah Akwasi Asiedu, one of the indicted judges in the Anas Aremeyaw Anas judicaial scandal.
HAJIA FATI ARRESTED OVER KWABENA AGYEPONG'S SMASHED CAR
Controversial member of the New Patriotic Party (NPP), Hajia Fati Amadu, was yesterday arrested by the police over the broken rear windscreen of the vehicle of the party's General Secretary.
The Attorney General, Marrietta Brew Appaih-Oppong has said that there is no evidence connecting the United Kingdom-based Ghanaian pastor, Eric Isaiah Adusah, to the alleged murder of his British wife.
MORE ECONOMIC SQUEEZE AHEAD; BOG TO TIGHTEN MONETARY POLICY
The Bank of Ghana (BoG) is warning that it will tighten its monetary policy further by raising the policy rate if risks to inflation persist.
COCOA BUYING FIRMS ON VERGE OF COLLAPSE
Business Finder can confirm that two Licensed Buying Companies (LBCs) of Cocoa have shut down their operations whilst six of them which have been dormant for the last one and half years are on the verge of collapse.
JUDGE ASIEDU EXONERATED AS CJ REJECTS ALLEGATION BY ANAS
One of the judges mentioned in the judicial bribery scandal, Justice Asmah Akwasi, has been exonerated.
TOP NPP WOMAN HELD OVER DAMAGE TO AGYEPONG'S VEHICLE
A strong female supporter of the opposition New Patriotic Party, Hajia Fati, was arrested by police early Wednesday for he alleged involvement in the smashing of the General Secretary, Kwabena Agyepong's vehicle.
COLLECTIVE AGREEMENT FOR DOCTORS CONCLUDED
After four months of negotiations, government has concluded conditions of service for public service doctors, following a crippling strike in June, which lasted for more than three weeks.
CHIEFS, RESIDENTS OF KEEA HAIL NDUOM
Chief and people of Komenda-Edina-Eguafo-Abrem (KEEA) municipality in the central region have lauded President of Groupe Nduom (GN), Dr Papa Akwesi Nduom, for ushering Elmina into what they described as a "golden era".
DANGER LOOMS AT ANLO AHEAD OF HOGBETSOTSO
Today can report that there is looming danger ahead of this year's celebration of a mini-durbar of Hogbetsotso festival the chiefs and people of Anlo traditional Area at Ave-Havi, a town in the Akatsi North District of the Volta region, which is slated for October 31, 2015.
Recommended articles
EOCO retrieves GHC 27.55 million from criminals in the last 10 months
Police arrest young man for cutting off lady's head at Spintex (video)
You can't be a Catholic and join Freemasons – Bishop jabs Afenyo-Markin
We will reject removal of e-levy threshold – Minority
Bagbin needs to stop behaving like a village chief — Martin Amidu fires
High import duties at the port difficult to do business — GUTA
Over 5.7 million subscribers' SIM cards to be deactivated if... — MTN Ghana announces
Trace Foundation raises awareness on COVID-19 vaccination
NSS summons Ashanti Regional boss for abusing nurse