Former prez Kufuor supports calls for new voters' register
According to the former president, the Electoral Commission should  be accountable to Ghanaians by compiling a new and credible voters' register for the 2016 general elections.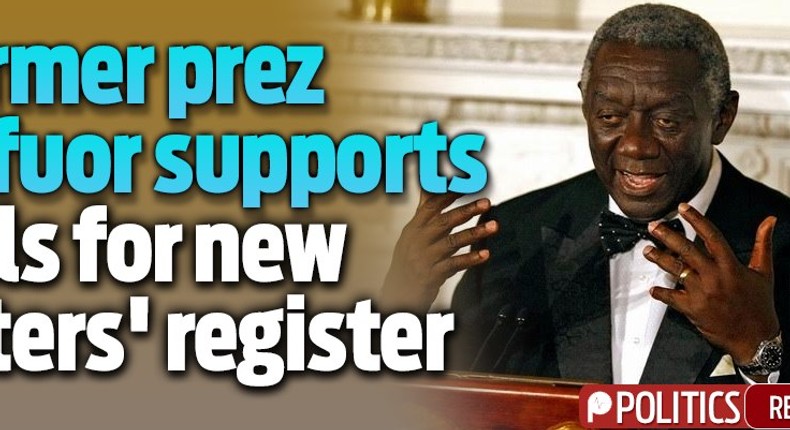 Former President, John Agyekum Kufuor has added his voice to calls on the need for a new voters register.
The former president made these comments when leaders of pro-opposition pressure group, Let My Vote Count Alliance (LMVCA) paid a courtesy call on him at his residence to ask him to intervene to ensure Ghana has a credible voters register going into the polls next year.
He also believed the EC cannot be independent from accounting to the people of Ghana.
''The EC is accountable to the people generally. The EC is not a power unto itself. Yes, the constitution provides for its independence, but that same constitution has at its cornerstone accountability and transparency", he added.
Former president Kufuor added that in order to ensure that peace prevails before, during and after the 2016 elections, the EC should listen to the people of Ghana and ensure that a new voters register is compiled.
"The cost of having faulty elections cannot be imagined. I have had the opportunity to see what transpired in Kenya; about 1,500 people got slaughtered....Ghana has escaped some of the devastations that overtook those lands. We pray such things do not happen here".
He further assured the group of his maximum support towards their call for a new voters register.
"I'm with you entirely. The EC should not plead excuses like cleaning the register", he said.
The 2016 vice presidential candidate of the New Patriotic Party had earlier outlined reasons why the current voters' register is flawed and unfit for purpose, requiring, therefore, the need for the compilation of a new voters' register ahead of the conduct of the 2016 general elections.
The New Patriotic Party (NPP) has further presented the Electoral Commission (EC) with what it claims are additional evidences to support calls for the replacement of the current voters' register.
The party said its Information Techonology (IT) Team have unraveled close to 2,096 separate cases of double and multiple registration from all the 10 Regions of Ghana to establish its claims that the  register is "incurably" flawed and unfit for the 2016 elections.
Ms. Charlotte Osei have revealed that so far, 30 institutions including 15 political parties, have submitted proposals which are being evaluated on whether or not there would be need for a new voters' register.
She further stated that the EC has received donor support to evaluate the proposals and that by the end of the month; they will organize a forum to discuss and reach some consensus on the proposals.
Recommended articles
Your investigation will make my job better - Education Minister thanks The Fourth Estate
Police arrest 8 people over Computerized School Selection and Placement System fraud
'I'll let you come and help' - Kyiri Abosom tells church ladies as he announces divorce (video)
China and Sneda mall managers arrested for not paying tax
Nana Addo sacked Charlotte Osei over flimsy and contrived reasons — Mahama
Nigerian LGBT rights activist being installed chief in Ghana falls off palanquin (video)
Unemployment in Africa to worsen by 2030 if not addressed — Mahama
Don't give up on Ghana, NDC will rebuild it – Mahama assures
Research: NPP delegates prefer Dr. Bawumia to Alan Kyeremanten as flagbearer