Akufo-Addo urged to fight corruption
At a press conference Friday in Tamale in the Northern region, chairman of the council, Alhaji Mumuni Musah (MIMA), urged Akufo-Addo to punish corrupt officials regardless of their political affiliation.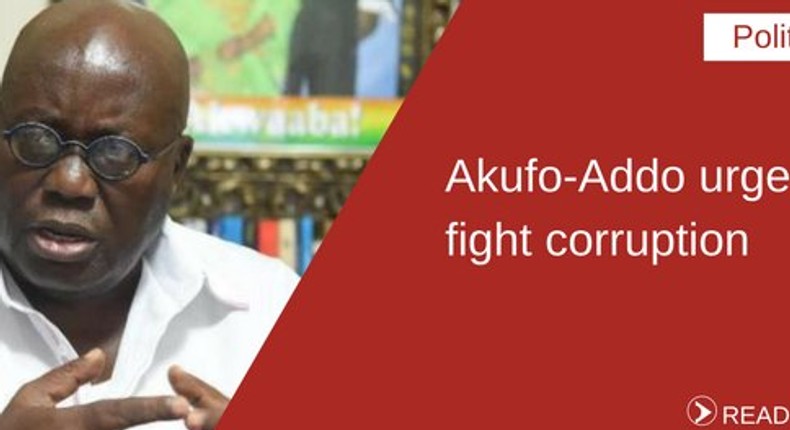 President-elect Nana Akufo-Addo has been urged to fight corruption by the party's Northern Regional Council of Elders.
"We wish to extend our congratulations to the President-elect of the Republic of Ghana, His Excellency Nana Addo Danquah Akuffo Addo and his Vice, Alhaji Doctor Mahamudu Bawumiah and the leadership and members of our great party for the convincing victory chalked in this year's elections," Alhaji Musah said.
He added: "Our last and most important advice to His Excellency the President-elect is that he should fight corruption in the Ghanaian society. All Government officials who are found to be corrupt either in the outgoing regime or in the NPP government should be made to face the law."
Alhaji Musah also commended the leadership of the NPP in the region led by its "dynamic chairman Abdul-Fatawu Bugri Naabu and his team, Constituency and Polling Station Executives and all the Parliamentary candidates and Parliamentarians elect for their resilience and hard work that brought glory the party to power."
"To all those who lost in the elections, we urge them not to relent but cooperate and fully support our President and members of Parliament to fulfil the promises made to Ghanaians," he said.
He further added the party's district industrialisation policy, the re-organisation of the SADA to Northern Development Authority, one-village-one-dam policy and the restoration of scrapped allowances will improve the standard of living of the majority of northern farmers.
Alhaji Musah said: "As the regions advisory body of the party, we are very optimistic that the Nana Addo led government will truly bring socio-economic transformation to Ghana.
"We are very confident that the implementation of the one village one dam and the one district one factory policies will not only create numerous jobs for the youth but also improve the living standards of majority of people in the Northern region who are predominantly farmers.
"We are also confident that the new government's intention to restructure the Savannah Accelerated Development Project (SADA) to Northern Development Authority (N.D.A.), The restoration of the teachers and trainee nurses allowances, the restructuring of the Non-Formal Education sector, and the allowances for Arabic instructors are a demonstration of Nana Akuffo Addo's commitment to accelerate the socio-economic development of northern Ghana.
Recommended articles
Blame govt's indebtedness to suppliers over shortage of premix fuel — Minority
Regressive 2.5% VAT will widen poverty gap — Tax analyst
Ban on galamsey will do Ghana more harm than good – Dep. Lands Minister
Ofori-Atta has more integrity than 99% of Ghanaian politicians – Prof Adei
WAEC releases 2022 WASSCE results
We expect Akufo-Addo to abide by the agreement we had on Ofori-Atta's sacking – NPP MPs
National Service Scheme suspends Ashanti Regional Director with immediate effect
I lost $12 million to cedi depreciation – Agyapong blasts Bawumia for 'bowing to Ofori-Atta'
Refund Ghc115,000 'illegal mining' money you collected – Destooled chief fights Okyenhene