Meet Ghana's Mukarama Abdulai- the leading top scorer in the FIFA U-17 World Cup
Mukarama Abdulai has bagged six goals to emerge as the leading top scorer in the ongoing FIFA U-17 Women's World Cup.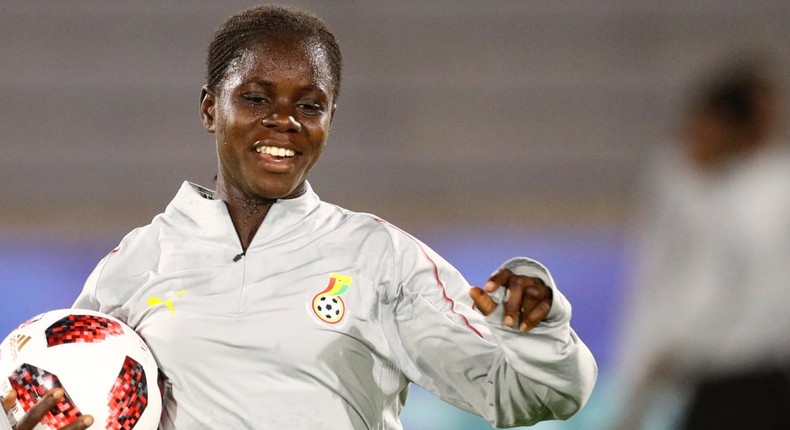 Black Maidens skipper is grabbing several headlines in the ongoing FIFA U-17 Women's World Cup in Uruguay.
The 16-year-old, who is on six goals, is the leading top scorer in the FIFA U-17 Women's World Cup in Uruguay.
She bagged a hat-trick in Ghana's 5-0 mauling of Uruguay, before getting on the score sheet once again against Finland as the Black Maidens cruised to a 3-1 win and registered a brace in the West Africans 2-0 win over New Zealand.
Her splendid display is not surprising, because she produced similar one by scoring 12 goals during the African qualifiers for the tournament.
Mukarama has won the Player of the Match award twice in the three games played thus far- against Uruguay and Finland.
Muka as she is affectionately called is from the Northern region of Ghana.
She is a player of Northern Ladies in Tamale, the capital city of the Northern region of Ghana.
Mukarama who is living his dream had some challenges in the early stages of her football career she was being looked down upon as a social misfit, since football is considered to be men's job.
Her own mother tried to persuade her to drop football, she didn't see the Black Maidens skipper taking it up as a career.
However, with the backing of his brother she continued to play football and with determination she is climbing the football ladder at a faster rate.
"It wasn't culturally acceptable in our country for a girl to play football and compete with the boys, but my first obstacle lay at home: my mother didn't believe I had any future in football. To begin with she tried to convince me not to waste my energy on it," Mukarama told FIFA.com.
In the face of that opposition, Abdulai found support from another family member. "My brother has always believed in me and he helped me find a coach and a good club where I could develop my game."
The gifted striker hopes to turn professional one day, her determination to achieve that goal founded on the backing she now enjoys from her mother: "She's the first to support me and encourage me to work hard and give it my all in training."
The undisputed leader of a Ghana team coached by Evans Adotey, Abdulai is hoping her iron will rub off on her team-mates. "I don't know what lies ahead of me but I believe in my ability to overcome the hurdles put in my way. I have the responsibility of being mentally stronger than all my team-mates and it's a job that suits me down to the ground."
Abdulai intends to share that belief with her team before they take to the pitch at the Estadio Charrua in Montevideo. One of the brightest young players in African women's football, she is well aware of what is at stake.
"I believe in myself and my team-mates and I hope I can inspire them to excel themselves. The World Cup can change our lives and open up doors for us in terms of our careers. We have to rise to the challenges we face and keep going till the end."
As she has shown in her short career to date, Abdulai is as mentally strong as she is naturally gifted with her feet: "I managed to make my mother see things differently and if I can do that, anything is possible."
Recommended articles
Kevin-Prince Boateng 'adopts' wife's surname on his social media pages
'Tuchel In, Southgate Out!' Reactions as England fans want Ex Chelsea manager ahead of World Cup
Andre Ayew: My only target is to win AFCON or World Cup with Ghana
Adidas x Marvel celebrates the premiere of Black Panther: Wakanda Forever (Where to buy, Prices, release date)
'So Underwhelming' - Reactions Netherlands conquer 'toothless' Belgium in Nations League
'Our Magician' - Fans hail Christian Eriksen as France fall to Denmark
'Who is Beyonce?' -Football fans on social media slam Twitter user after claiming that the popstar is famous than most footballers
Families demand 'millions' from FIFA as compensation for migrant labourers who died ahead of World Cup
Thomas Partey returns to Arsenal after injury scare on Black Stars duty