Talented goalkeeper at Nsawam prison gets signed jersey and gloves from Ajax star Andre Onana
Ajax star Andre Onana has promised to send a signed jersey and gloves to the goalkeeper at Nsawam prison whose video has gone viral.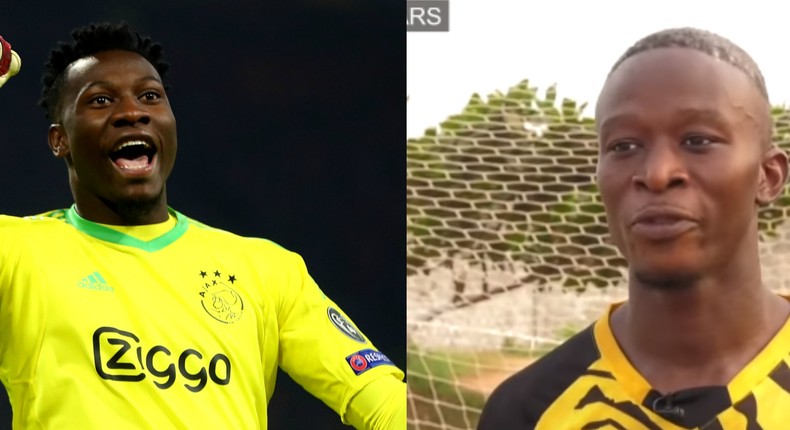 The Cameroon international was touched by Arhin Aboagye's effort to launch a career as a goalkeeper despite being in prison.
Aboagye's inspirational story as an inmate has been trending after his documentary was premiered by TV3.
"Arhin, keep up the great work. I'll send you my signed shirt and gloves. I look forward to seeing you stop more penalties wearing them!" Onana wrote on Twitter after sighting the documentary.
Aboagye has three more years to serve at Ghana's medium security prison, having already served six years and some months.
In a documentary aired by TV3, the young man tells the story of how he's been working hard to realise his dream of becoming a professional goalkeeper.
According to him, he has always wanted to become a goalkeeper but his parents preferred having him in school instead.
He said being in prison has dealt him a massive reality check and, he doesn't just look forward to being reformed, but also taking advantage of every opportunity to launch a career.
Aboagye said he looks up to Ajax goalkeeper Andre Onana and says he hopes to emulate the success of the young Cameroonian goalie.
The latest development is that Onana has promised to send a signed jersey and gloves to the promising convict.
Pulse Ghana
In a separate tweet, Onana said: "Life is not easy for most people. Sometimes you can take shortcuts, but only effort and humility will bring you up to the right way.
"Everybody can make mistakes but the most important thing is to change and have a second chance to show that we can all be better people."
Watch the full documentary below:
JOIN OUR PULSE COMMUNITY!
Recommended articles
AC Milan beat Salernitana to move top of Serie A
Chelsea stunned as Masuaku's stroke of luck lifts West Ham
Moyes laments Lingard's lack of game time at Manchester United
Championship leaders Fulham indebted to Adarabioyo for Bournemouth draw
American coach Marsch on brink as Leipzig lose again
Under-pressure Benitez wants Everton to learn from Arteta example
Milan's Kjaer out for six months as Liverpool, Napoli loom
Berhalter eyes newcomers as USA prepares for qualifiers
Gerrard prepares to lock horns with former boss Rodgers