"My son is my best achievement" - Carrie Underwood
Carrie Underwood and her husband Mike Fisher's young son is 'a total champ' and the 'best' thing that's happened to them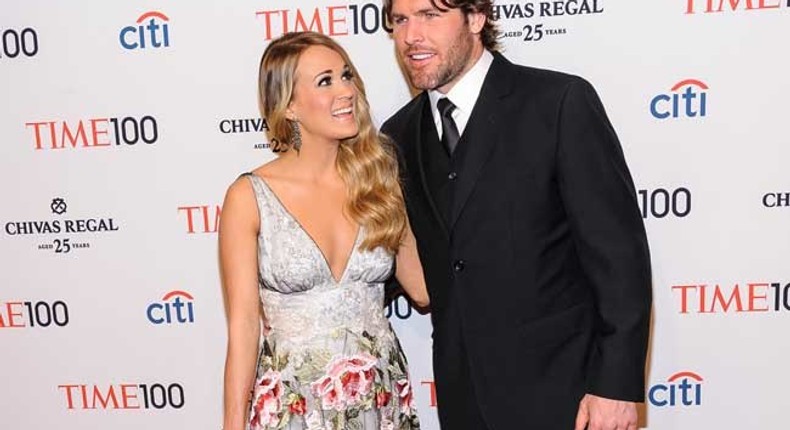 Carrie Underwood tells her newborn son, Isaiah he's the "best thing" in her life.
The 32-year-old country music star - who married Nashville Predators hockey star Mike Fisher in 2010 - gave birth to eight-month-old Isaiah Michael Fisher in February and the loved-up parents are totally besotted with the little "champ" who the singer revealed is an "easy baby".
Carrie shared: "I tell (Isaiah) constantly that he's the best thing that me or Mike has ever done ... (Isaiah is) just the easiest, sweetest guy. Like he's smiley. He only cries if he's hungry or sleepy ... No colic. He's teething. He's been a total champ. He's just an easy sweet baby!"The couple - who met at one of the 'Smoke Break' singer's concerts in 2008 - love to sing Carrie's hits to Isaiah despite her 35-year-old sports star husband changing the words to his wife's songs.Carrie, 32, confessed: "(Mike) doesn't know all of the words, to any of my songs. He'll sing like the 'way' wrong words!
She added to ET Canada: "Mike loves to sing. He loves to sing! No, actually he's not too bad ... He's awful at lyrics. He can hold a tune, I think that's the 'worst part' of him singing, is that he'll like sing things, and I'll be like, 'Listen to what you just sang! Like, does that make any sense?'... I do not think Mike should be a singer ... I think Mike's good playing hockey!"
Get our Top Stories delivered to your inbox
Recommended articles
People mistake me for Nigerian but I enjoy the attention - Camidoh
He has been a great inspiration to me- Akwaboah gives Sarkodie his flowers
They fought honourably – Anne-Sophie Avé on Ghana and Portugal's match
Waka Waka to Ghana Black Stars - Here are iconic songs to enjoy during the World Cup on Audiomack
Homemade bleaching creams and their negative side effect
'Odo Kakra sika Kakra' singer says he didn't make money from music because of love
'It's sad and shameful to take off Kudus at a crucial time' - Nana Aba schools Otto Addo
'Shame on you, that penalty was cheap' - Habiba Sinare calls out Ronaldo and FIFA
Tony Amani's new single 'Melody' with Sarah Tobi is a beauty to behold