Yvonne Nelson shares a photo of her late dad
"there were days I couldn't wait to see you and talk to you just for a minute....I longed to hold your hand.....I longed to sit on your lap.....I longed for all of that......can we still do that when I see you in HEAVEN??", Yvonne writes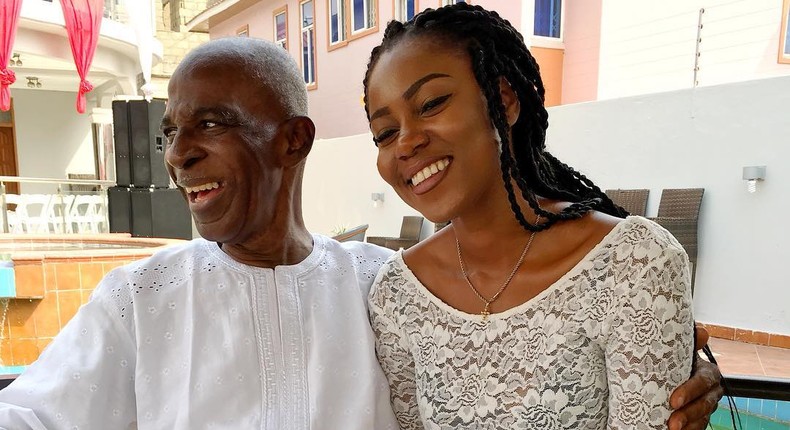 Ghanaian actress, Yvonne Nelson has written her heartfelt tribute to her dad.
Mr. Nelson passed away on Monday according to entertainment journalist and personal friend of the actress, Francis Addo.
Yvonne revealed that she has snapped only two photos with her father and the last one was taken on January 6, 2017.
The actress and producer expressed how she longed to share some quality alone time with her father just like old days.
"Rest In Peace Father .This picture was taken on the 6th of this month..., i have only two pictures with my Father, and this is one of them.....so much I wanted to talk about.....so much I wanted to say.....but God knows best....I know you are in HEAVEN......I know we'll meet again and talk about it all.....there were days I cried to my mum to bring me to yours......
"there were days I couldn't wait to see you and talk to you just for a minute....I longed to hold your hand.....I longed to sit on your lap.....I longed for all of that......can we still do that when I see you in HEAVEN??
Can we start all over again?? Can we correct the mistakes??? I longed for you so much. I have nothing but love for you.......in His last days....he always mentioned God in everything he said...why?? Because there's no one GREATER  sleep well father ".
Yvonne Nelson told Punch Newspaper in May last year:"My mother raised me single-handedly and she means the world to me. I am the last child and I have three siblings. She saw me through school and till date, she calls and checks up on me on a regular basis because she is concerned about my welfare. She is like my friend and I even call her Charlie".
"My dad was not a part of my life because he wasn't there for me. So, I almost do not say anything about him because there is no relationship or love between us. My dad is like any other person out there because I didn't have a chance to develop a relationship with him. We have each other's phone numbers and he calls me when he feels like talking to me. It always feels like talking to a random person because there are absolutely no feelings whatsoever."
"Sometimes our society makes it hard for us to talk about things like this. But, it's my story and I don't have any other way to say it and I don't want to sugar-coat it. I don't know, I may never. He was never a part of my life and it is quite unfortunate."
"We actually have an 'okay' relationship and it's not like I won't talk to him if I see him today, but it ends there because we do not have a relationship. Talking to him is like talking to someone you don't know."
Recommended articles
I manage the 'Livingstone Foundation' and not the Stonebwoy brand – Dr Louisa clarifies
Stonebwoy's blushing wife twerks as he hypes her: 'Your beauty is manipulative' (video)
MzGee fires shots at those comparing her to Nana Ama McBrown
'Build a School for them'- Sonnie Badu proposes solution to Agyinasare - Nogokpo issue
Don't remember me when I'm dead; I don't want people fixating on the past -Wutah Kobby
GHAMRO threatens to sue Akosua Agyapong for spreading false rumours
Agyinasare should not fight Nogokpo, he should beg the presidency to help him - Ajagurajah
I will handle Nogokpo myself, Agyinasare is not strong enough – Nana Agradaa
Van Calebs: Can Ghanaian comedians move away from political and ethnic jokes?