Theater Play, 'Love Of Mamavi' comes to Alliance Française on 27th November,
The love of Mamavi is a sensational play that lays bare the life of tenants in a compound house; typical of many African homes.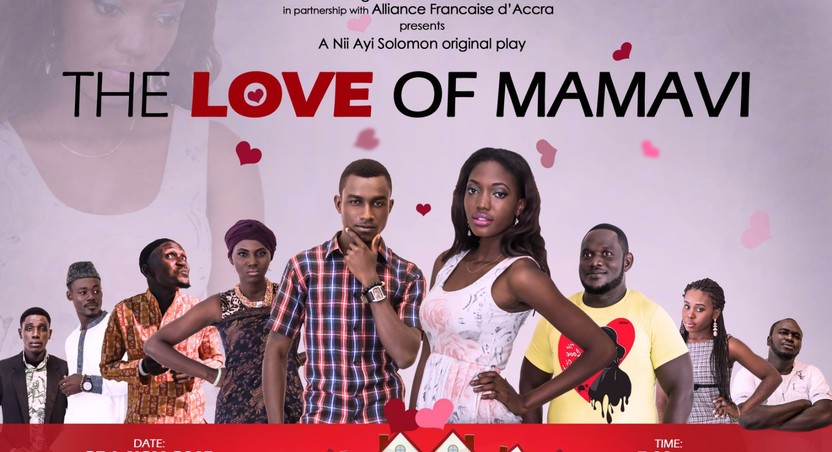 Nii Ayi Solomon, an upcoming playwright presents his first play titled  directed by WK Dziewornu-Norvor.
The love of Mamavi is a sensational play that lays bare the life of tenants in a compound house; typical of many African homes. Members of this compound house belong to different tribes and hail from a unique cultural background. Holding their tribes supreme, they are constantly at each other's throat trying to defend the dignity of their tribes.
Amidst this bedlam, Mamavi, a young and dynamic lady, falls in love with Adjetey who belongs to another tribe, thereby throwing the whole house into more mayhem. Tension mounts as Efo, the old soldier, attempts to shoot Adjetey and Mamavi tries to defend her love. How will Mamavi, the young, beautiful and dynamic Ewe girl's love for Adjetey, unite the entire people staying in that small compound house?
The play, strewn with bits of humour and sarcasm, epitomises the tense tribal and political atmosphere pertaining in Africa and suggests ways sanity can be maintained within a diverse political, cultural and ideological space.
According to the writer, the conflicts and the tribal tension that exist in Africa was what inspired the writing of this play. The goal is to use love as an element in preaching peace and togetherness. Thus he strongly believes Africans live in a compound house. That is to say, if we can help each other, then we can face all the developmental challenges that Africa is plagued with.
He says, 'What we seek to achieve with this play is to preach the message of peace and togetherness. It does not matter which tribe you belong to, we are all one people so we should do away with our ethnic parochial identities. That way we can love each other and peace will prevail'.
The cast of the play is a blend of professionals who know everything about the stage and upcoming actors who are willing and ready to be coached. The lady playing the lead role, Mamavi, is a final year student at the School of Performing Arts, University of Ghana.
The event will take place at Alliance Française Accra Amphitheatre on Friday 27th November, 2015 at 7:30pm
The audience should expect an unforgettable night. They should expect being educated and entertained. It's going to be a night of music, poetry and drama plus free drinks at the gate.
'You should expect more plays in the future. After this production, we will start working on my second play 'Family Affair'-Nii Ayi SolomonRate: GHC 20 / GHC 10 for students & AF members / free under 12
JOIN OUR PULSE COMMUNITY!
Recommended articles
'I f**king love gays, nobody should sit on their freedom' - Shatta Wale on anti-LGBTQ+ bill
Here are 7 things you missed at Pulse Influencer Awards 2021
'Is he not gay?' - Social media react to Nana Tonardo kissing his 'white sugar mummy' (VIDEO)
E.L's "Superhero" clocks 20M plays on Spotify, becomes most streamed Ghanaian hip-hop song
'Ghanaian acts need to work 10 times harder to get to where Nigeria is' - King Promise
'I lay at your feet' - Okyeame Kwame says as he marks his wife's birthday
'Sucking breast gives wisdom and long life, do it every morning' - Captain Smart to men (WATCH)
MzGee breaks silence after quitting TV3, says 'it is now time to fly higher'
'Sarkodie's wife is not wise, I won't apologise for insulting her' - Patapaa (VIDEO)