9 things we know about this year's show
The 2017 Grammys is slated to take place on Sunday, February 12, 2017, beginning at 8pm ET at the Staples Center in Los Angeles, California.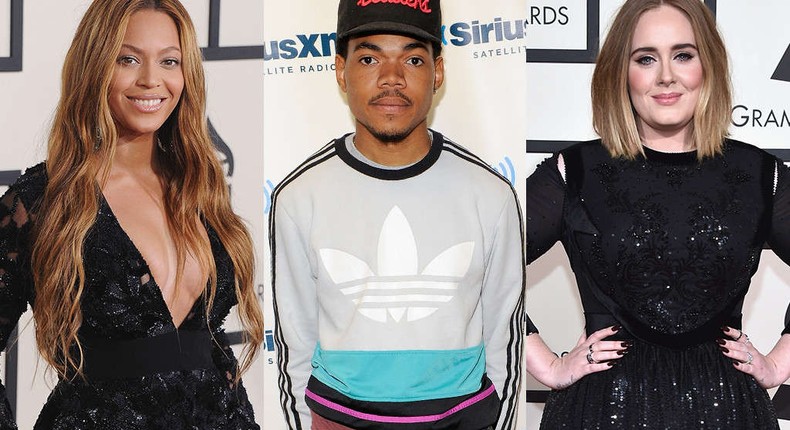 Its that time of the year again when we celebrate music in its grandest form!
We have put together 9 things we know about the awards, from celebrity attendees to nominees.
We do know that a very pregnant Beyonce along with her husband, Jay Z, have reserved front row seats. Other celebrities include Jennifer Lopez, Bee Gees star Barry Gibb, Demi Lovato, Carrie Underwood, Sia, Taraji P. Henson, Nick Jonas and Rihanna.
Other seats were reserved for the likes of country music couple Faith Hill and Tim McGraw and nominees The Weekend, Solange, Thomas Rhett, Halsey, Ezra Koenig, The Chainsmokers and De La Soul.
2. Beyoncé has been nominated for nine Grammy Awards, (I know right) and it would be her first public appearance since she announced that she is pregnant with twins. (We are so excited!)
She formally announced her pregnancy on February 1, 2017, via a statement she shared on social media.
This would be the second time the pop diva would showcase her pregnancy, as she did the same with her now 5-year-old daughter, Blue Ivy, at the MTV VMA's in 2011.
3. We do know that Drake will not be attending the awards despite that fact that he is nominated for eight awards.
The "Hotline Bling" rapper is reportedly on tour in England.
4. James Corden, the host of The Late Late Show, will be hosting this year's awards which would be his debut.
James Corden hosted the 2016 Tony Awards with rave reviews.
5. Presenters: Celebrities who would be presenting awards at the show tonight include, Lopez, Solange, Rhett, Halsey, Henson, Jonas, McGraw, Hill, former Fifth Harmony singer Camila Cabello, Kelly Clarkson, Laverne Cox, Jason Derulo, Céline Dion, DNCE, , Paris Jackson, Katharine McPhee, Pentatonix, Gina Rodriguez, Ryan Seacrest and John Travolta.
6. John Legend and current Grammy nominee, Cynthia Erivo are set to perform a tribute to those in the music communities who have been lost in the last year.
7. The Grammys will be dedicating special tributes for late iconic pop and rock stars, Prince and George Michael, for being inspirations to other musicians over the last few decades.
Earlier, Billboard reported that Bruno Mars is working on a Prince tribute with members of the group, The Time.
8. Lovato, Andra Day, Tori Kelly and Little Big Town are slated to give a collaborative performance in celebration of the music of the '70s pop group as well as the 40th anniversary of Saturday Night Fever, which features their music.
Gibb is also slated to take the stage.
9. As for other performers and Collaborations, Underwood, Adele, Keith Urban, Kelsea Ballerini, Lukas Graham, William Bell, Chance The Rapper, Gary Clark Jr. and Sturgill Simpson, plus The Weeknd and Daft Punk, Alicia Keys and Maren Morris, Anderson, Paak and A Tribe Called Quest, and Lady Gaga and Metallica, will be keeping guests and viewers all over the world thrilled with electrifying performances.
We have high expectations for Lady Gaga's performance following her epic thrill at the 2017 Super Bowl Halftime Show.
E! Online reports that Gaga recently told Apple Music's Zane Lowe, that the idea for the pairing came about while she was at Bradley Cooper's house with the band's drummer, Lars Ulrich.
"I've seen them a couple of times live, but I saw them live recently, and we were watching the show and I'll tell you something, those guys play better than they've ever played in their whole lives," she said.
With all this, you have an idea of what to expect from this year's awards but be sure to brace for much more!
Recommended articles
Idris Elba set to shoot film in Ghana
Actress Benedicta Gafah ties the knot
We'll settle in court, Bullgod pursues Appietus for 'stolen' money
I won't talk about National Cathedral - Diana Hamilton
Spanish fashion designer Paco Rabanne dies aged 88
Black Sherif has made Ghanaian artists useless – Archipalago
Efya crowns herself as the Landlady of Ghana music
We've reduced love to sex and money - Kwabena Kwabena
Stop all the frivolous rap and focus on singing - Hammer advises Kwame Yogot