8 things to expect as a Nigerian travelling to Ghana for first time
A lot of rumours have flown on social media about Ghanaian girls and their heavy backside...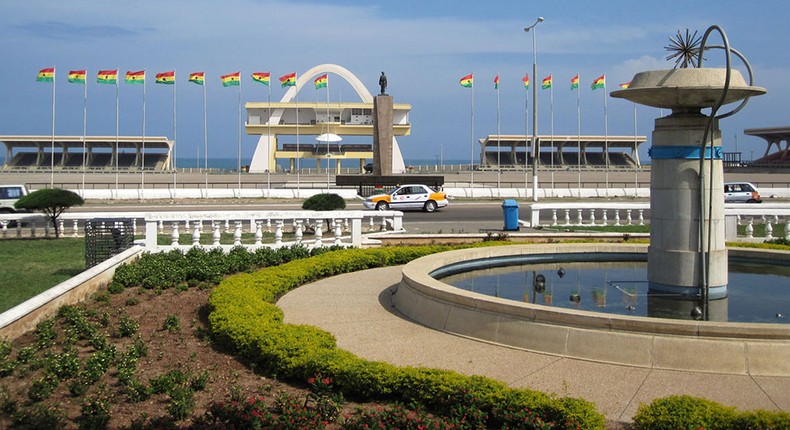 Ghana and Nigeria have a lot in common starting from colonial masters to the official language. These notwithstanding, there are a lot of things that won't naturally appeal to you or come off as weird.
But acclimatising to life in the city of Accra, Ghana, is another thing entirely and these tips will give you a solid heads-up.
The socio-economic situation of Nigeria will also make you marvel at some realities in Ghana while a few of the beliefs you thought were true about Ghanaians would be unfounded.
And when you finally make the trip to the Gold Coast, these are 8 things you should expect:
The spread of Nigerian music
Perhaps the first thing that'll jump at you is how Nigerian music has taken over Ghana's airwaves. If you take a cab that tunes in to a radio station playing music, you'd hear many Nigerian songs before hearing a track from Black Sherif or Sarkodie.
Pulse Nigeria
Hitting it in Nigeria more often than not translates to blowing up in Ghana as well. Kizz Daniel, Adekunle Gold and Ayra Starr's songs were the first I heard on entering Accra. I almost looked around to see if I wasn't back in Lagos.
Constant power supply
Electricity supply in Ghana is as constant as K in Physics. When there is a power outage, you simply hear the people say light out. Excuse me? Some parts of Nigeria, it's total blackout. Throughout the two weeks I stayed, there was 'light out' twice, the first was for about 2 hours, the second 5 minutes.
This surely makes the ease-of-doing-business index of Ghana way higher than Nigeria's. Small and medium-scale businesses need not spend a fortune to generate power.
Bus conductors as mates
Those you angrily call conductors in Lagos, Ghanaians see them as mates. One can only imagine calling a danfo bus conductor mate, the way he'd look at such a person and respond, the response will ring in the person's head for days.
Bus conductors are known as mates in Ghana Pulse Nigeria
"Hey mate, where's my change?" Hilarious.
Bikes are not really a thing
People hardly take bikes in Accra. It's usually a last resort. The popular trend of bikes and tricycles turning street junctions into terminals is rare in Accra. They trek a lot intra-street and heavily depend on 18-seater buses.
News Ghana
The easiest explanation for this has to be their population. The population of the entire country is around 32 million while Accra's is around 2.6 million - paltry when compared to Nigeria's.
No uniformly-painted commercial vehicles
Although Ghana's population relies heavily on buses for road transport, the buses do not have a uniform paint, unlike the yellow danfo buses in Lagos with black stripes. It is the liquor-battered voices of the mates that will make you know that a commercial bus is approaching.
The English accent
There is a vast difference between how Nigerians and Ghanaians speak English, especially in the accent and pronunciation. It would be weird at first to hear them pronounce bus as bas, structure as stractcha, among other pronunciations. In terms of grammaticality, they are not better. And being in Ghana means you'll be exposed to more Ghanaians than you encounter on social media.
Just as there are ethnic accents to English speaking in Nigeria, they have theirs. There is no saint nor winner in English speaking, just peculiarities.
Stretching words for emphasis
Pannnnnnnn, sannnnnnnnnnnn are some ways in which Ghanaians show emphasis. You could hear a sentence like "God bless you pannnnnnnnnnn" and find it difficult to control your laughter. It is difficult to find a Nigerian/Yoruba equivalent of such interjection, maybe something like "O pooooooo" but that still doesn't fully capture the Ghana effect.
The backside of Ghana ladies may have been overstated
A lot of rumours have flown on social media about Ghanaian girls and their heavy backside. Well, I hate to break it to you that they may not be commonplace as circulated by netizens.
My verdict on Ghana versus Naija jollof
The jollof war between Ghana and Nigeria has been on for decades and it will only continue to drag on. However, after crossing the border to go have a taste of the vaunted Ghana jollof, it is difficult to make a call.
Jump Africa
With no sense of bias, Ghanaian restaurants put a lot of effort into preparing their jollof. It feels like they are conscious of the war, that any Nigerian could walk through their doors and taste their jollof just to prove a point.
So, in terms of intentionality, they do better than Nigerian food vendors but do they have the better jollof? Naahhh.
JOIN OUR PULSE COMMUNITY!
Recommended articles
Empowering women: Reflo's TV show inspires healthy relationships
Here are 8 most followed Ghanaian celebs on Instagram
DIY Recipes: How to make the perfect brownies
7 ways to stay friends with the opposite sex without catching feelings
Tactics con artists use before they scam you
3 reasons relationships that start in December may not last
DIY Recipe: How to make African drop doughnuts
5 things every young man in a relationship should know about women
The truth about feminine wash and perfumes