DIY Recipes: How to make the best Carrot cake with 4 easy steps
This carrot cake sets the standard for carrot cakes everywhere.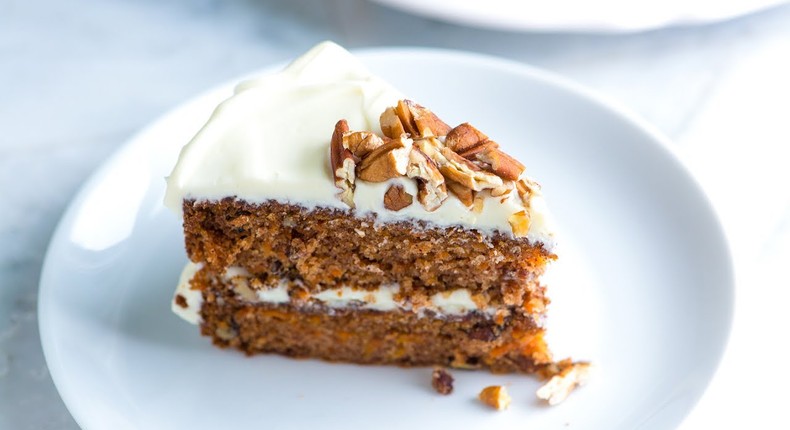 It is quick, easy to make, and utterly delicious.
2 teaspoons vanilla extract
1 cup crushed pineapple, drained
1 ½ teaspoons baking soda
4 teaspoons ground cinnamon
In a medium bowl, combine grated carrots and brown sugar. Set aside for 60 minutes, then stir in raisins.
Preheat oven to 350 degrees F (175 degrees C). Grease and flour two 10 inch cake pans.
In a large bowl, beat eggs until light. Gradually beat in the white sugar, oil and vanilla. Stir in the pineapple. Combine the flour, baking soda, salt and cinnamon, stir into the wet mixture until absorbed. Finally, stir in the carrot mixture and the walnuts. Pour evenly into the prepared pans.
Bake for 45 to 50 minutes in the preheated oven, until cake tests done with a toothpick. Cool for 10 minutes before removing from pan. When completely cooled, frost with cream cheese frosting.
JOIN OUR PULSE COMMUNITY!
Recommended articles
DIY Recipes: How to make Apple bread
Dear men, 7 sexiest qualities you possess that attract women
How much should you spend on a wedding dress?
The best celebrity pictures on Instagram this week
Can walking after a meal help in faster digestion?
For men: 7 tips to help you have the best first-time sex
This is why revenge cheating on your unfaithful partner isn't a bad idea
8 signs your guy really wants to marry you
First kiss: Here's how to do it right to impress your partner