How to prepare stir-fried beef noodles with vegetables
Pulse daily DIY recipe teaches prospective chefs how to prepare healthy, Ghanaian dishes in a simple way.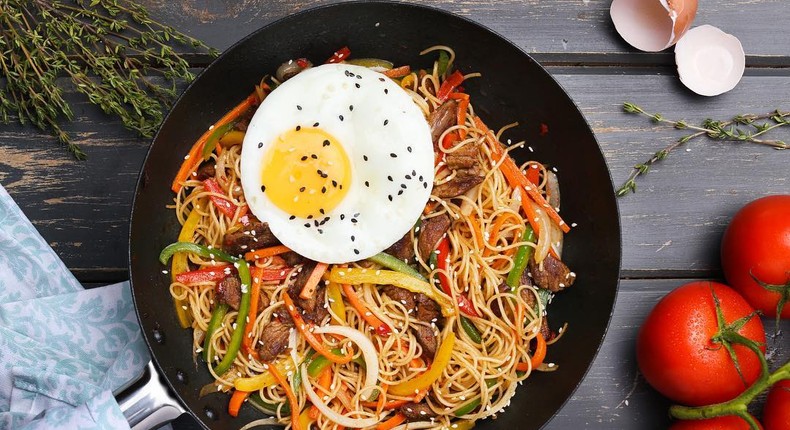 2/3 c. reduced-sodium soy sauce
2/3 c. beef broth
2 Tbsp. brown sugar
4 cloves garlic minced
2 tsp. minced ginger
1 tsp. cornstarch
1 lb. boneless beef
1 lb. noodles
4 tsp canola oil divided
1 red bell pepper sliced thin
1 onion sliced thin
2 carrots sliced into match-sticks
1-2 c. cabbage shredded
sesame seeds to taste (optional)
Combine soy sauce, brown sugar, garlic, and ginger in a small mixing bowl. Place half of the mixture in a gallon-sized Ziplock bag, add sliced beef, seal (pressing as much air out as you can), and refrigerate for at least 2 hours.
Add cornstarch to remaining mixture in bowl and stir until smooth, cover and refrigerate until ready to use.
Prepare noodles according to package directions.
While noodles are cooking, heat 2 tsp. oil in a large skillet over medium-high heat and add steak slices discarding excess marinade.
Stir-fry until just browned, remove steak from skillet and set aside.
Add remaining oil to the same skillet and stir-fry peppers, onion, carrots, and broccoli until onions become clear and soft. Add cabbage and beef to the skillet and cook until cabbage becomes soft.
When noodles are done cooking, drain and toss with beef/vegetable mixture, adding the reserved sauce mixture. Toss until noodles are coated in sauce.
Top with sesame seeds and serve immediately
JOIN OUR PULSE COMMUNITY!
Recommended articles
DIY Recipes: How to make Boiled Green Bananas
The best celebrity pictures on Instagram this week
10 trending hairstyles for brides-to-be
Ladies! These are 5 things you shouldn't say to your man during s*x
7 things men find attractive in women, according to science
Does swallowing semen make you fertile? Here's what research says
5 foods that can prevent erectile dysfunction
5 health risks of excessive masturbation on your body
DIY Recipes: How to make Watermelon-banana smoothie