Don't dismiss them – Akufo-Addo directs GES to give Chiana SHS students different punishment
President Nana Addo Dankwa Akufo-Addo has asked the Ghana Education Service to consider other disciplinary actions against the eight female students of Chiana SHS rather than dismissal.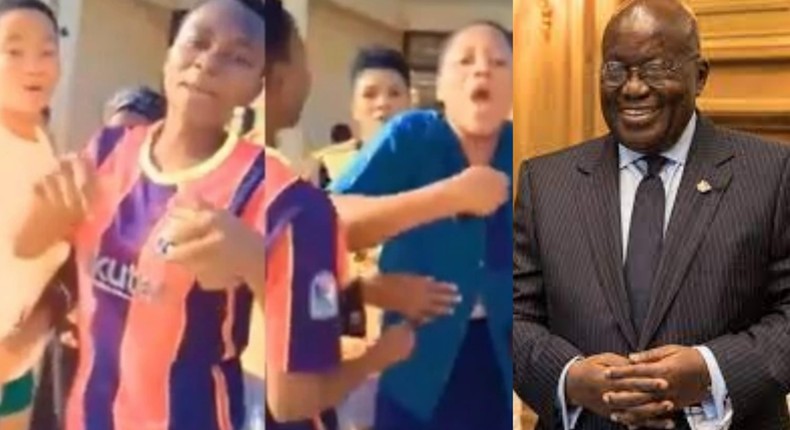 This was contained in a press release signed by the spokesperson of the GES, Kwasi Kwarteng.
According to the statement, following the President's intervention, the Minister of Education, Dr Yaw Adutwum has directed the GES to review the disciplinary action taken against errant students.
The Ghana Education Service (GES) had dismissed the eight female students of Chiana SHS in the Kassena Nankana West District of the Upper East Region for insulting the President.
The dismissal followed a viral video which emerged in November last year in which the students were captured insulting President Nana Addo Dankwa Akufo-Addo while expressing frustration over the severe hardship prevailing in the country.
A letter dated November 29, 2022, signed by the Director General of the GES, Dr Eric Nkansah and handed over to the guardians of the affected students communicated their dismissal.
The GES described the conduct of the affected students in the dismissal letter as undesirable, and contrary to the acceptable standards of conduct generally required of any student in Ghana's educational system.
The disciplinary action is an outcome of an investigation that was launched into the video by the GES and the management of the Chiana SHS after they apologized to the President on behalf of the students involved.
The decision by the GES did not consider an appeal by the Executive Director of Child Rights International, Bright Appiah to the authorities to be lenient in dealing with the students.
Recommended articles
Church of England launches project to stop referring to God as 'He', 'Him' and 'Our Father'
Ken Ofori-Atta should be chased out of office by the military – Yaw Tano
Enchi constituency: 14 persons arrested in connection with disturbances at NPP elections
University of Ghana converts plastic waste to petrol, diesel and gas
Police pushed cannabis into his throat in our absence - Shadrach's sister alleges
Ablakwa vs Kusi Boateng: NDC condemns judicial abuse and despicable efforts to gag MPs
Meet Alphonsus Adu-Bredu an NSMQ alumnus developing wild robots
You are not a preacher, you are a witchdoctor – Prophet Oduro slams Kyiri Abosom
GH₵50m worth of cannabis destroyed by NACOC