Gov't to investigate unedited footage of Anas exposé on galamsey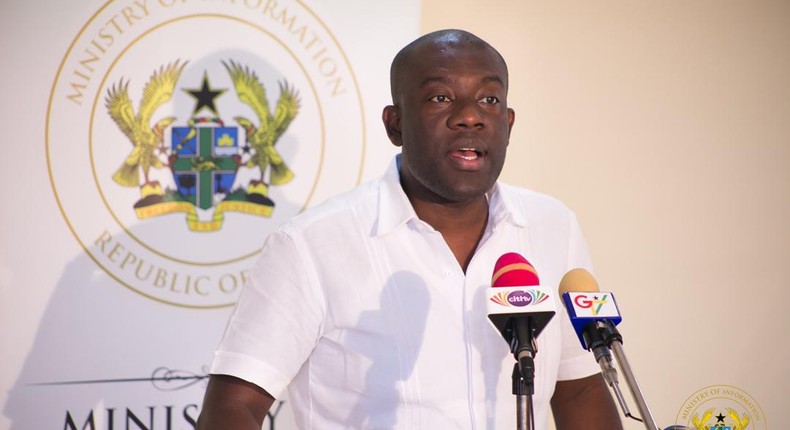 According to him, investigations into the raw unedited footage of the documentary will determine the fate of persons implicated.
"Government will have the said tapes properly investigated using the raw unedited footage and if any persons are found to have solicited monies or taken bribes to bend rules the necessary action will be taken," he said.
Oppong Nkrumah added that the government welcomes help from any Ghanaian in the galamsey fight.
Addressing the press in Accra, he said "Government welcomes any support that is aimed at helping us win this fight because we are committed to this fight. We are happy to receive whatever help anybody has. We are a nation of men of different backgrounds who work in pursuant of the state agenda.
"We will not give timelines, the point we want to make clearly is that there is a documentary out there, there are some raw footage that serves as the basis to it. It's of interest to the state and we will examine it. Work proceeds until we are told otherwise by our principals. So the work proceeds, if in the process of the fight there is information out there that somebody has compromised the fight, it is important to have access to it and to examine and then to take necessary actions."
Anas investigated the rot after President Nana Addo Dankwa Akufo-Addo launched 'Operation Vanguard', a military-police joint task force to combat the menace of illegal mining.
A presidential staffer and Secretary to the Inter-Ministerial Committee on illegal Mining (IMCIM), Charles Cromwell Bissue, has been fingered in the exposé.
In the latest work of Anas exposing corruption, Bissue in the video emerged as a facilitator for a company seeking to circumvent laid down processes to be given clearance for its mining operations.
Bissue is seen receiving wads of cash to facilitate the speedy 'clearance' of a mining company in order that it can begin mining as soon as possible, and is heard in the video instructing his subordinates over the phone to "fast track" the processing of the company's documents.
JOIN OUR PULSE COMMUNITY!
Recommended articles
I'm not aware I have been summoned to the Privileges Committee of Parliament – Adwoa Safo
Why are you starving Parliament of funds? - Bagbin asks Finance Ministry
Because of bribes, some pastors can't speak boldly - Rev. Martey
Akropong constituency polls in limbo as pro-MP supporters slap exercise with multiple injunctions
Death penalty in Ghana: The woes of 83-year-old Konadu
Bole: Assistant headmaster arrested for allegedly raping SHS final year student
"Our courts are not courts" – Oliver cries about jailing suspects with no lawyer
'He's not a hypocrite' – Manasseh defends Rev. Professor Martey
Pick Alan Kyeremanteng as a running mate for Dr. Bawumia for 2024 elections – Atta-Akyea to NPP