I'll use just 60 ministers, deputies if I return as President in 2024 - Mahama
John Dramani Mahama, flagbearer aspirant of the National Democratic Congress (NDC), has promised to operate a lean government should he win the 2024 general elections.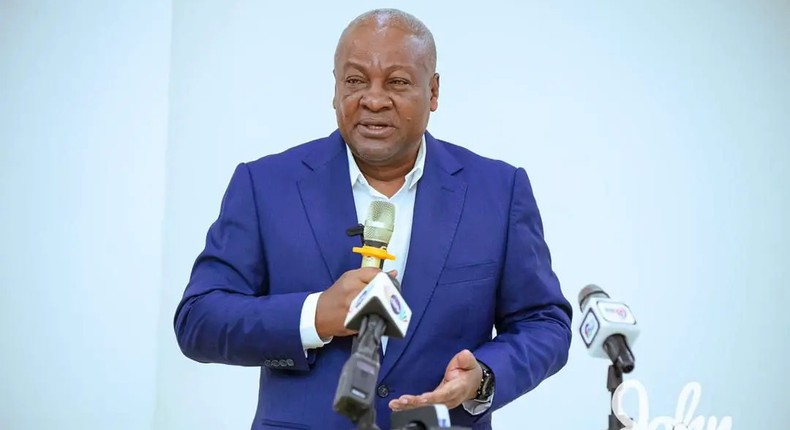 He said he will use a total of sixty (60) Ministers and deputies should Ghanaians give him the mandate.
"I shall assemble and operate the leanest but most efficient government under our fourth republic. We will reduce, significantly, the size of the government. As I announced in my Ghana We Want address at UPSA late last year, I will form a government of less than sixty (60) ministers and deputy ministers of state."
Mahama also promised to probe the expenditure of COVID-19 funds and ensure proper accountability of all public funds.
"Fellow countrymen and women, the time has come for Ghanaians to receive proper accountability from those they elect to political office. This accountability can only be achieved by a new party in government. I promise Ghanaians, that I shall investigate how public funds were expended and this includes the Covid-19 Audit and the findings from the Auditor-General's reports over the years."
"We must clean the Augean stables and rid them of the filth and corruption. The anti-corruption will be given unfettered space to do their work. The days of the infamous 'clearing agent' will be well and truly over. But to ensure efficiency and professionalism in this endeavour, institutions of the state would be empowered to be independent in their work. State-owned enterprises will not be a gravy train for political apparatchiks."
The former president made the comments during his campaign launch at the Cedi auditorium at the University of Health and Allied Sciences in Ho in the Volta Region.
Recommended articles
'Traitors, Judases and Esaus' – Ablakwa blasts NDC MPs who approved Akufo-Addo's ministers
I intend to do work that will increase investment in Africa - Kamala Harris
US Vice President Kamala Harris arrives in Ghana
Police reroute traffic in Accra and Cape Coast from March 26 to 29
Treason felony suspect, Dr. Mac Palm dies
Obuasi Prisons commander, DDP Aidoo retires
We can work together to achieve our goal - Ato Forson
NDC reasserts its position on the need for Akufo Addo to downsize gov't
Six perish in gory Akuse accident