Four persons have been arrested in connection with the demise of a 37-year-old plantain chips seller who was reportedly raped to death.
The deceased, identified as Naomi Opoku, was reportedly drunk when the suspects abused her.
According to a report by Joy News, the incident happened on Saturday, December 30, around a bar at Buokrom Limex Quarry.
The body of the deceased was dumped on the streets after she was allegedly raped, a police investigation uncovered.
READ ALSO: 10 Ghanaian women who inspired us in 2018
Sources say the deceased went hawking plantain chips in the vicinity but got drunk at the usual drinking spot she frequents.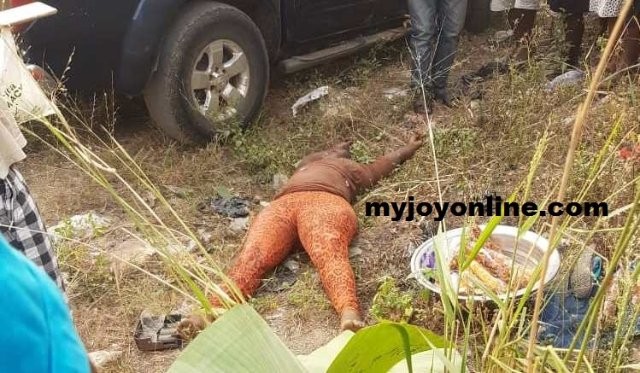 Body of the deceased at the time it was found (Myjoyonline.com)
Reports suggest she was helped into a room around the drinking spot, but it was later found out that the suspects sneaked into the said room to rape her.
Terrified by the lifeless body of the woman, the two siblings whose room she was sleeping dumped the body on the streets, on the advice of their grandmother.
However, a search was mounted for the deceased after her fiancée, Awudu Bashiru, reported her disappearance to the Police.
The deceased's body was later found the following morning at about 6 am in vicinity lying supine with phlegms oozing from her nose with her plantain chips in a tray beside her.
Meanwhile, the two siblings who dumped the body of the deceased on the streets have been arrested together with their grandmother.
Also, one of the suspects of the alleged rape has been arrested, but the others are currently at large.