Today's Front Pages
Here are today's newspaper headlines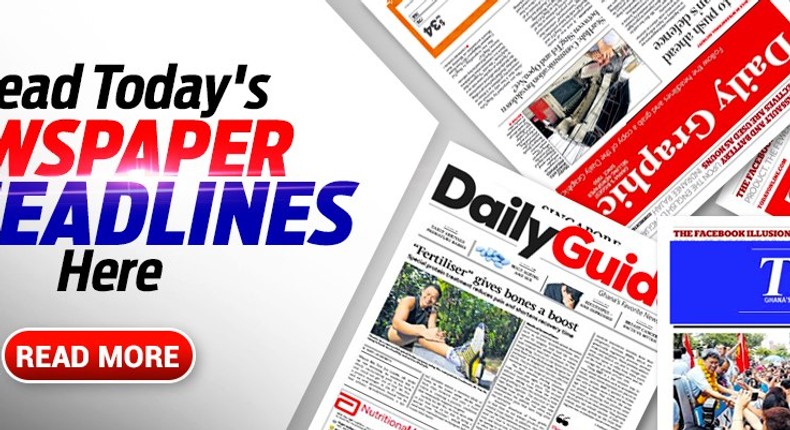 No pay for 3,794 workers as they fail to submit SSNIT numbers
The Controller and Accountant General's Department (CAGD) has withheld the salaries of 3,794 government employees who do not have social security numbers.
Woman poisons her 2 children to death
The Essikado town in the Sekondi-Takoradi metropolis was thrown into a state of shock yesterday morning, when news broke that a young woman had poisoned her two little children.
Be moderate in promises – Mahama advises aspiring MPs
President John Mahama has asked politicians aspiring to be Members of Parliament to be moderate in their promises to prevent pressures from the electorate for the provision of public goods and services, on entering Parliament.
WOMAN POISONS 2 DAUGHTERS OVER BROKEN HEART IN T'DI
Residents of Essikado in the Secondi-Takoradi metropolis of the Western Region became dumbfounded yesterday when news broke that a popular woman in the area had allegedly poisoned her two daughters to death.
NDC PUSHES CONGRESS TO NOVEMBER 21
The governing National Democratic Congress has finally postponed its presidential and parliamentary primaries to November 21, 2015.
DERY SUES JUDGE OVER ANAS VIDEO
Justice Paul Uuter Dery, on e of the high court judges indicted in the Anas Aremeyaw Anas corruption scandal, had filed a suit at the Supreme Court seeking to prevent Justice Gertrude Torkonoo – a Court of Apeal Judge – from hearing his case involving the ace investigative journalist and four others, on claims of bias.
GOVERNMENT DITCHES PRINTEX: IMPORTS FABRIC FOR FREE SCHOOL UNIFORMS
Documents available to The Finder indicate that the Ministry of Education has flouted a directive of President John Mahama on government's policy on made-in-Ghana products.
LBCS CALL FOR PROBE INTO 'SEED-FUND GUARANTEE' POLICY
Licensed cocoa buying firms are optimistic that the Finance Ministry will set up a committee to review the 'seed-fund guarantee' policy introduced by Ghana Cocoa Board (COCOBOD).
WE ARE READY TO SUBMIT TOGO REGISTER TO EC – NPP
Member of Parliament for Akwapim South, Osei Bonsu Amoah has said the request made by the Electoral Commission of Ghana to supply it will be honoured to further strengthen their case for a new electoral roll.
TONNES OF YAM GO ROTTEN BEFORE EXPORT
Out of a possible 100,000 tonnes of yam available to exporters per annum only about 25,000 to 30,000 tonnes get exported, as factors like excessive use of chemicals by farmers, poor handling, and delays at the ports make the producer perish faster.
"WE NEED ENGINEERS NOT OIL AND GAS MANAGERS"
Deputy Petroleum Minister, Benjamin Dagadu has described as unfortunate the practice whereby most Ghanaians wanting to work in the oil and gas sector shy away from technical aspects of the sector, opting to rather pursue various courses such as "oil and gas" management.
SME NEED GOVERNMENT SUPPORT TO REBOUND ECONOMIC GROWTH
Small and Medium Enterprises (SMEs) need strong governmental support in order to bring economic growth back on track, Phillip Oti-Mensah, Managing Director of Union Savings and Loans, has said.
JOIN OUR PULSE COMMUNITY!
Recommended articles
'Akufo-Addo has deepened presidential accountability with regular radio interviews' - Adom Otchere (Watch)
Open your eyes, Akufo-Addo's record is unmatched – NPP tells Oti chief
Akufo-Addo launches 'Clean Your Frontage' campaign towards making Accra cleanest city in Africa
George Akuffo Dampare: Who is Ghana's new IGP?
Legal education can be expanded with just 10% of National Cathedral funds – Chris Ackumey
Police officers who died in car crash mourned
40-year-old man who allegedly killed his pregnant wife dies in police custody
Komenda sugar factory: Nana Addo has failed us - Governance expert
Mahama should let Ghanaians know his views on LGBTQI debate – Okoe-Boye