Pulse Picks: 17 Ghanaian sports personalities who passed away in 2020
Sports personalities like any individuals are bound to die because death is inevitable and there lots of Ghanaians sports personalities who passed away in the course of 2020.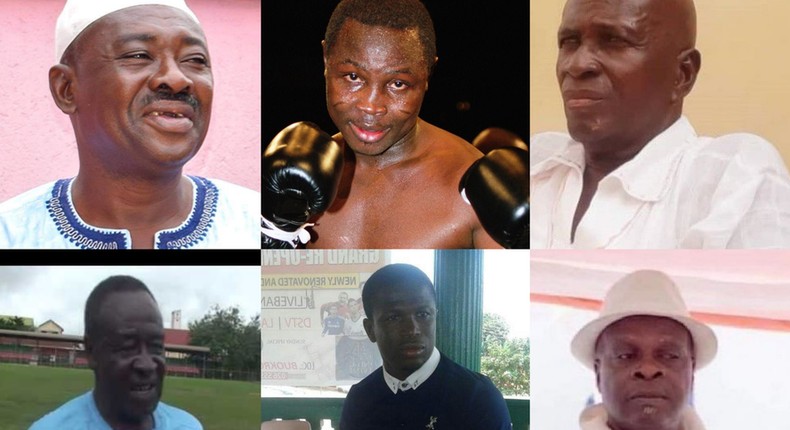 They have left a huge gap in the hearts of the Ghanaian sports loving fans.
The death of some of them were very tragic because they never fell sick, but passed away through road accident.
Below are the Ghanaian sports personalities who passed away in 2020
Ex-FIFA referee LO Laryea
Ex-FIFA referee LO Laryea died in January, 2020 at the Korle Bu Teaching hospital after a short illness.
He died at the age of 75. " Indeed, with a heavy heart, I confirm that my father, passed away this morning at the Korle Bu Teaching Hospital," Mr David Laryea, his son confirmed to Graphic Sportsonline
His death is a big loss to the Ghanaian football fraternity- he has served in various roles, from the actual refereeing to managerial roles in refereeing following his retirement.
He became the Chairman of the Referees Association of Ghana (RAG) and held the role for close to a decade and ended his tenure in 2011.
In 2012, Mr Laryea was appointed the Refereeing Manager at the Ghana Football Association (GFA), a role he played until December 2017, when he decided to step down.
Tributes have already started pouring in for L.O Laryea after his demise.
His son David Laryea who is also a referee indicated that he is saddened by his father's death and eulogized L. O's legacy in refereeing.
Ref David Laryea told the Graphic Sportsonline that his father's death was sad but it was inevitable.
"The entire family are so heartbroken over his death. It was unexpected as he was sick for only some few days. We didn't think he would be gone so soon, but death is inevitable and so we accept that it's God's way.
"We can be proud of what he achieved in the sport and how he has inspired generations after him," Mr Laryea said.
Pulse Ghana
Referee Jones Boateng lost his life in a road accident at a village along the Obuasi to Dunkwa-on-Offin main road in October when returning from a funeral rite in October 2020.
The young man, who is reported to be in his early thirties, was a class one referee and although was dropped from the list of referees that were passed to officiate in the 2020/21 league season, he had higher hopes of gatecrashing into it next season
Boateng was a Kumasi-based referee and his family as well as Ashanti Regional Referees Association.
Pulse Ghana
Former WBO Bantamweight champion Alfred Kotey affectionately called Cobra Kotey passed on at the age of 52.
The legendary Ghanaian boxer died in the United States (US) after battling a short illness.
He reportedly suffered a stroke in the midst of some complications and eventually had to be placed on life support
Kotey's demise was confirmed by the secretary General of the Ghana Boxing Authority, Patrick Johnson.
"Kotey had battled illness for some time now," Mr. Johnson is quoted as saying by Joy Sports.
The deceased, who was nicknamed "Cobra", is one of 10 Ghanaians to have been world champions in boxing.
He represented Ghana at the 1988 Olympic Games in Seoul, before going to annex the WBO Bantamweight title in what was journey-man career.
Jonathan Oti Ankrah (a.k.a Joe Dakota)
Pulse Ghana
Ex-Hearts of Oak and Ghana defender Jonathan Oti Ankrah popularly known in the football cycles as Joe Dakota passed away.
Joe Dakota died in the United States of America at the age of 84.
Joe Dakota played for Accra Hearts of Oak and the Black Stars in the late 1960s and the early 1970s.
A club statement read: ''@HeartsOfOakGH is saddened to hear of the passing of our former player Jonathan Oti Ankrah (Joe Dakota). He was a pillar in defence at the club during the late 1960s and early 1970s. Our thoughts and prayers are with his family at this grievous moment.''
Joe Dakota is the third former national team player to pass away in 11 days after Opoku Afriyie and Kwasi Owusu.
Pulse Ghana
Ampem Darko, a former Deputy General Secretary of the Ghana Football Association (GFA) passed away in June, 2020.
The cause of the death of Ampem Darko is yet to be discovered.
Ampem Darko worked several years as the Deputy General Secretary of the Ghana Football Association (GFA) and he was one of the longest-serving staff of the Ghana football governing body.
This is a year that a lot of sportsmen have fallen, namely Opoku Afriyie and Kwasi Owusu both former Black Stars strikers, Goodwill Agyeman, President of the Ghana Powerlifting Association (GFA) and ex-FIFA Referee L.O Laryea.
Pulse Ghana
Former Tano Bofoakwa and Black Stars striker Kwasi Owusu popularly known in football cycles as 'Power House' died in March, 2020
The cause of Kwasi Owusu's death remains unknown.
Kwasi Owusu is one of Ghana's finest strikers of all-time and his power in the air and ability to bully defenders gave him the nick-name 'Power House'.
He bagged 40 goals in the shirt of the senior national team of Ghana the Black Stars
Owusu is the third all-time top scorer of Ghana in competitive games after Asamoah Gyan, Edward Acquah.
Pulse Ghana
Ghana and Asante Kotoko football legend Opoku Afriyie passed away in March, 2020 at age of 75
Nicknamed 'Bayie', the ex-Black Stars striker died in March, 2020 in Kumasi.
Opoku Afriyie played for Asante Kotoko for several years before signing for Hearts of Oak prior to ending his footballing career.
He was the top scorer in the Ghana domestic football league in 1979 and again in 1981.
In 1982, he placed 8th on French magazine France Football African Footballer of the Year gong.
Opoku Afriyie is among 20 other Ghanaians nominated by CAF out of a total of 200 African footballers for the title of the best African player of the last 50 years
He was a member of the squad that won the 1978 African Cup of Nations making Ghana the first team to win it thrice.
He scored the two goals in the final of that tournament.
Pulse Ghana
Berekum Arsenal owner Yakubu Moro passes away after suffering stroke in October, 2020.
The report indicates at the Ridge Hospital in Accra after he had been on admission for about a week.
It is understood Yakubu Moro travelled o Accra to sort out some paper works with the Ghana Football Association and unfortunately suffered stroke during his short stay in the capital.
According to Ghana Sports online he went to the Ridge Hospital to consult his personal doctor for medical check-up but he shockingly suffered stroke on arrival at the hospital.
Few friends including former Ghana FA Vice President George Afriyie and Berekum Arsenal legal representative Lawyer Kwame Ntow Fianko were among those who visited him on his hospital bed.
Eight juvenile footballers perish in a road accident
Pulse Ghana
Ghanaian were saddened by the death of juvenile footballers of African Academy following a road accident on the Kumasi-Offinso Highway.
The players were returning from Kumasi to Offinso following a registration for the next colts football season when the vehicle transporting them veered off the road into the Offin River and six of the juvenile players died instantly with two others dying later at the Hospital.
Pulse Ghana
The children aged between 12 and 15 with officials were travelling back to Offinso after a registration exercise at Afrancho in Kumasi after undergoing colts division registration.
Six of them died on the spot while two others died at the hospital, leaving several others injured.
Pulse Ghana
Four of the eight young players who perished in a road accident at Offinso on Saturday 19th September, 2020 were laid to rest to rest in October
The names of those who passed away in that tragic incident were Hubert Anaaba, Abdulai Jamal, Kwame Opoku, Alex Agyemang, Ramsey Ofori Amanfo, Atta, Sam, Azonto
The burial service held today at Offinso in the Ashanti Region was attended by Minister of Youth and Sports Isaac Asiamah, Director-General of the National Sports Authority, Ghana FA Vice President Mark Addo, Ghana FA Executive Council member Frederick Acheampong and many others.
It should be noted that four players were earlier laid to rest and the remaining four have been buried on October 1
Pulse Ghana
Former Kumasi Asante Kotoko striker Stephen Owusu died in October, 2020.
He passed away at the age of 37-years
The demise of the ex-Kotoko player was confirmed by his sister, Abigail Comfort Owusu on Facebook on Saturday, October 24.
She posted a collage of the former Tusker FC player with the inscription: "Fare thee, my brother."
According to a Ghanasoccernet report, Owusu had been bedridden for some time now after contracting an illness in Kenya.
Stephen Owusu also played for Accra Heart of Lions and Accra Celtics.
Pulse Ghana
Lt. Col. Dr. Brew-Graves was Chairman of the GFA during the period of 1973-75. His passing occurred at the 37-military hospital on Sunday, November 1, 2020 after a short illness.
As a retired military officer, late Brew-Graves will be buried at Military cemetery in Accra.
Final funeral rites will be held at the VAG club house on Sunday, December 21, 2020.
The late Lt. Col. Dr. Samuel Henry Brew-Graves is credited for introducing the Gala competition.
He was 86. May his soul rest in perfect peace.
More from category
Osman Bukari's goal celebration was needless; he's not serious – Don Bortey slams Black Stars player

Netherlands vs Ecuador live

Ghanaians warm to Black Stars despite defeat to Portugal
Recommended articles
Osman Bukari's goal celebration was needless; he's not serious – Don Bortey slams Black Stars player
Netherlands vs Ecuador live
Ghanaians warm to Black Stars despite defeat to Portugal
Mane-less Senegal wake up in Qatar, give Morocco, Cameroon, Tunisia lessons in 3-1 win
'Plastic fans couldn't wait till full time' - Reactions as 'Mane-less' Senegal give Qatar a taste of real Jollof
FIFA World Cup 2022: All results, fixtures, scores, live standings
Qatar 2022: Key stats from the first round of Group Stage fixtures
Battle for the top: France vs Denmark Preview
Ronaldo breaks Asamoah Gyan's record after scoring in 10th consecutive international tournament