Try the Lasagna this Christmas
Made with a variety of ingredients including ground beef, cheese, tomato sauce and more, this is the perfect recipe to try if you're looking to do things differently this Christmas.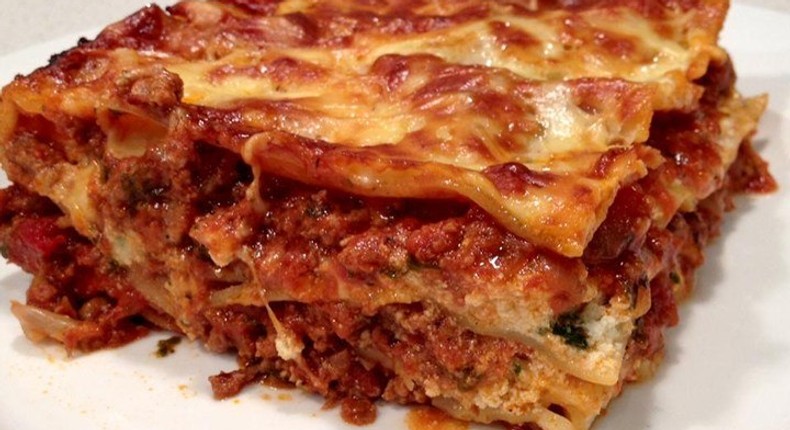 Lasagna refers to wide, flat-shaped pasta and is a popular Italian recipe.
Check out this recipe courtesy All Recipes.
1 pound bulk Italian sausage
 1 pound ground beef
1 cup chopped onion
4 cloves garlic, minced
2 cans tomato sauce
1 can crushed tomatoes
1 can Italian-style crushed tomatoes
2 cans tomato paste
3 tablespoons chopped fresh basil
2 tablespoons chopped fresh parsley
2 teaspoons brown sugar
1 teaspoon salt
1 teaspoon Italian seasoning
1/4 teaspoon ground black pepper
1/2 teaspoon fennel seeds (optional)
1/2 cup grated Parmesan cheese
12 lasagna noodles
1 egg
1 container ricotta cheese
2 tablespoons chopped fresh parsley
1/2 teaspoon salt
1 pinch ground nutmeg
1 package shredded mozzarella cheese, divided
3/4 cup grated Parmesan cheese, divided
Recommended articles
Top 10 most followed celebrities on Instagram – 2023
4 sexual fantasies women often have
DIY Recipes: How to make baked chicken balls
The best celebrity pictures on Instagram this week
5 reassurances your girlfriend needs to hear regularly
For women: 5 causes of a missed period apart from unsafe sex
Check out the multi-million dollar outfit Despite wore for his 61st birthday [Photos]
Opulence, flamboyance on display as Osei Kwane Despite celebrates 61st birthday [Videos]
Valentine's Day: 7 unique date ideas to celebrate this romantic day