Ghana is the best place for business – Nana Addo tells UAE investors
Ghana has become a major competitive location for businesses and a good investment destination for many foreign enterprises in Africa, President Nana Addo Dankwa Akufo-Addo is courting the support of investors in the United Arab Emirates (UAE).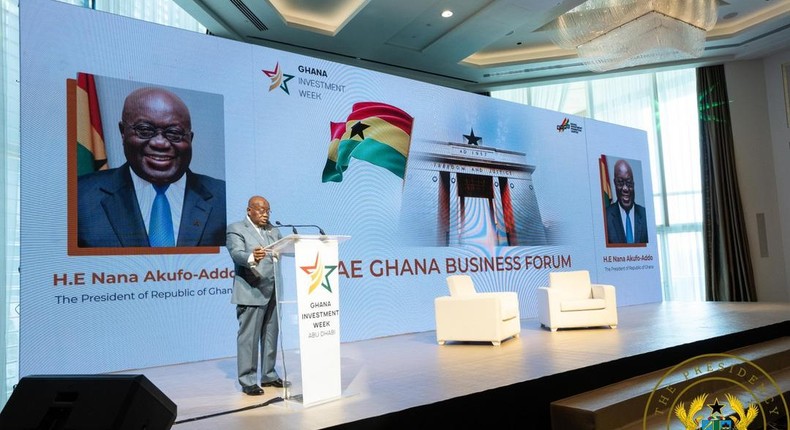 According to him, the political stability and friendly environment in the country have made it an ideal place to invest.
Since 2017, Ghana has seen average yearly economic growth of 7%, making it one of the world's fastest-growing economies. The economy is a combination of private and public companies.
Nana Addo speaking at the UAE-Ghana Investment Summit in Dubai said Ghana stands tall among its counterparts for business and trade in Africa.
"In spite of our present challenges, I maintain that it's an exciting time to be in Ghana to do business. I will urge the private sector in the UAE to take advantage of the business-friendly climate in the country to invest in Ghana. Regardless of where you choose to invest in Ghana, the government has instituted a number of fiscal and investment incentives depending on the nature of activity or location of the investment," he said.
He stated that his government, since 2017, has put in place measures needed to reduce the cost of doing business, and improve the business environment.
He stated that these measures "made the Ghanaian economy not only one of the most business-friendly economies in Africa but also one of the fastest growing economies in the world between 2017 and 2020, averaging 7% GDP annual rates of growth, up from the 3.4% rate we inherited in 2016."
With the government working to restore the nation onto the path of high growth rates experienced prior to the onset of COVID-19 and the Russian/Ukraine war, he told the gathering of Ghana's decision to seek the collaboration of the IMF "to repair, in the short run, our public finances, and give credibility to our balance of payments, which have taken a severe hit in very recent times as a result of these developments."
"I am confident that we will emerge from this with a stronger and more resilient economy, and advance towards our goal of reaching a Ghana Beyond Aid. Not only is Ghana the best place for doing business in West Africa, but she is also the preferred destination for a perfect blend of mineral resource potential, stable regulatory environment, favourable fiscal regime, and socially responsive mining in Africa," he added.
The government, he said would mobilize efforts to create an enterprising atmosphere that would allow young people to develop innovative ideas which may lead to the creation of lucrative enterprises.
JOIN OUR PULSE COMMUNITY!
Recommended articles
Asanteman SHS, Kumasi Girls, and 5 other Headteachers interdicted in the Ashanti Region
We will strengthen Ghana's extractive industry for economic prosperity -Mahama
GES interdicts two more Headteachers for unofficial sales to new students
"I never said you can use Ghana card to buy a car" - Bawumia Clarifies
24-hour economy policy beneficial to commercial drivers - Drivers Union hail Mahama
Parliament greenlights $150m World Bank funds
Speaker Bagbin suggests 10:00 am limitations to tackle tardiness in Parliament
Police arrest 17-year-old boy for having sex with a cock
ECOWAS and Media Foundation for West Africa sign partnership to enhance media freedom