Heir apparent to Yaa Naa, Mion-Lana is dead
The Mion-Lana, Naa Mahamadu Abdulai V has been reported dead.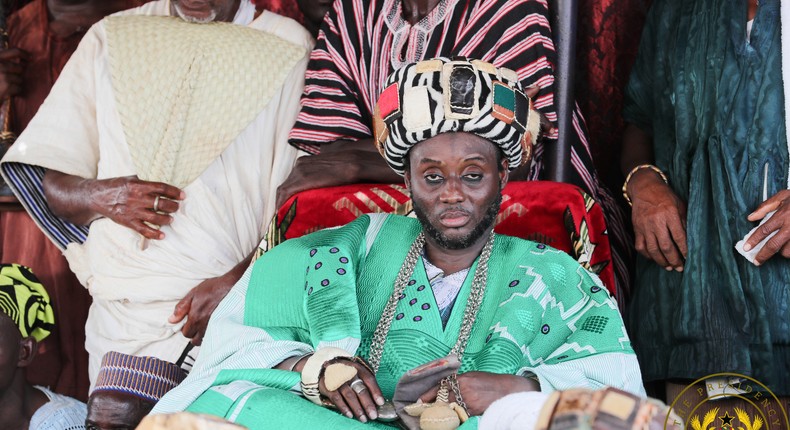 Naa Abdullai, till his death, was the heir apparent to the Dagbon skin.
The sad incident happened on Wednesday, August 17, 2022, at the Korle Bu Teaching hospital in Accra.
He was the next in line after the reigning Overlord of Dagbon, Ya Naa Abukari II, per the rotational system of the Dagbon kingship.
Known in private life as Mahamadu Abdulai, the late Mion Lana was born in 1974.
He was enskinned as Mion Lana on March 3, 2019, at the Gbewa Palace in Yendi following the ascension of Ya Naa Abukari II as the Overlord of Dagbon.
He was the first son of the late Ya Naa Mahamadu Abdulai IV who was the Overlord of Dagbon from 1969 to 1974 and was eligible to ascend to the Dagbon Namship (Ya Naa).
He has since been laid to rest at Sambu, the traditional capital of Mion, in line with Dagbon custom and tradition.
He left behind four wives and 12 children.
Get our Top Stories delivered to your inbox
Recommended articles
16 suspects arrested by the police over Asaman Tamfoe shooting
Police arrest 16 suspects over shooting incident at Asaman Tamfoe
Cease your mining operations in the Tano Forest – Lands Minister orders Chairman Wontumi's company
PURC - We're working closely with ECG to resolve power interruption
4 Challenges Ghanaians are currently dealing with under Akufo-Addo's government
Ghanaian man arrested for vowing to publish nude videos of late brother's wife
National Security warned Nana Addo against SIM card blockage – Ahmed Ibrahim
GRA reacts to alleged smuggling at borders of Ghana
Paratrooping goes wrong as Nigerian soldiers land on trees and cars (video)