Here's why Ras Mubarak stopped riding bicycle to Parliament
However, after just one ride from his residence to Parliament House, the MP has reverted to his former ways of using a vehicle to his place of work.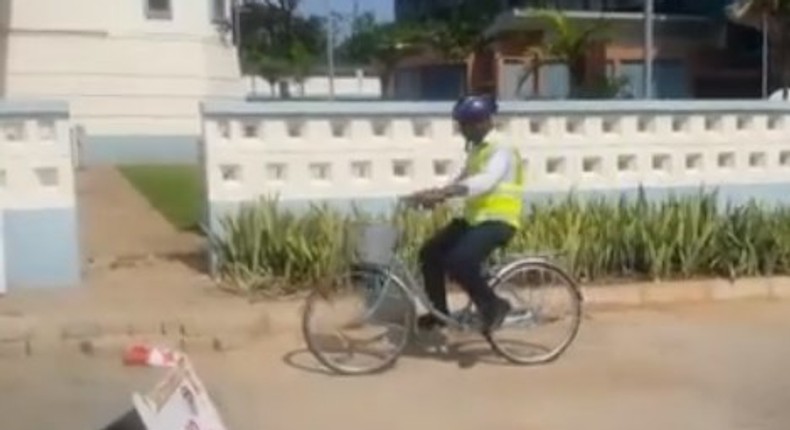 The National Democratic Congress (NDC) Member of Parliament for the Kumbungu Constituency,
Mubarak said that his decision to ride on a bicycle was in protest of the untold hardships the Akufo-Addo government has inflicted on Ghanaians.
He said he decided to ride the bike to highlight the sufferings that many Ghanaians were going through, citing the increasing cost of fuel which had increased the costs of goods and services and laying of workers as some of the sufferings that people were experiencing.
And here are his reasons for not adhering to his stance:
"I had intelligence that some people had planned to crash me with a tipper truck while riding and turn round to accuse me of committing a mistake leading to the accident. So based on intelligence and security advice I've decided to stop riding it to Parliament largely because some people want to harm me, and I'll take precautionary measure to avoid that happening", Mubarak said on Okay FM in Accra.
He also said: "In this dispensation everything is possible and I love life, love my family, constituents and country so much to want to give them that pleasure of having a tipper truck to push me off the road."
Get our Top Stories delivered to your inbox
Recommended articles
Kwame Nkrumah didn't achieve anything; Akufo-Addo is better than him – Agya Koo
UEW stakeholders set October 7, deadline to settle GPA issues after protests
Chief in Mankessim murder case is alive – Police
President Akufo-Addo booed during speech at Global Citizen Festival
Judges are not above the law; they can be criticized – Hassan Ayariga
Three more students arrested in connection with Katanga, Conti riots
We didn't issue Aisha Huang's return visa – Ghana Ambassador to China
UEW - Students protest over discrepancies in their results.
World Bank vindicates Bawumia over impact of Mahama's energy sector contracts