I'm sorry, I lied against Ibrahim Mahama – Ayawaso task force begs over land claims
Samuel Dua, Head of task force for Ayawaso West Municipal Assembly and Assemblyman has asked businessman Ibrahim Mahama, the younger brother of former President John Mahama to forgive him for wrongfully accusing him of grabbing a state land to himself.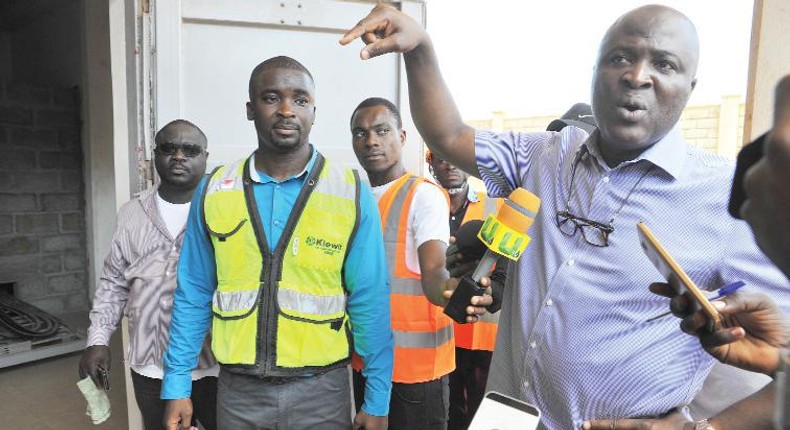 He said the allegations are 'baseless' and asked the businessman to forgive him.
Samuel Dua made the accusation two weeks ago on UTV.
But he has rendered an unqualified apology to Ibrahim Mahama for the accusations.
He said "Two weeks ago I spoke to UTV about a parcel of land at Red light, East Legon belonging to the state. I accused Mr. Ibrahim Mahama of allocating to himself the said land and went ahead to put up a building on the said land. But later I realized the said building does not belong to Mr. Ibrahim Mahama. First of all, let me use this opportunity to render an unqualified apology to Mr. Ibrahim Mahama. I am pleading with him to forgive me for saying the building belongs to him. He should please forgive me."
Ibrahim Mahama's Exton Cubic after a series of threats in October 2017, filed an application for a review of the decision to revoke the company's leases to prospect in the Tano Offin Forest Reserve.
The company had also complained that it was being targeted by the government for political reasons, due to Ibrahim Mahama's relations with Mahama.
In their suit, the company argued that the Minister's decision was unreasonable, unjust, and an abuse of his powers.
An Accra High Court presided by Justice Ackah-Boafo has ruled against the decision by the Lands and Natural Resources Minister, John Amewu, over the revocation of the mining permits.
By the judgement, the mining licence of Exton Cubic to prospect for bauxite in the Ashanti Region, has been restored.
Get our Top Stories delivered to your inbox
Recommended articles
Nana Akufo-Addo charges the youth to embrace responsibility
Kwame Nkrumah didn't achieve anything; Akufo-Addo is better than him – Agya Koo
UEW stakeholders set October 7, deadline to settle GPA issues after protests
Chief in Mankessim murder case is alive – Police
President Akufo-Addo booed during speech at Global Citizen Festival
Judges are not above the law; they can be criticized – Hassan Ayariga
Three more students arrested in connection with Katanga, Conti riots
We didn't issue Aisha Huang's return visa – Ghana Ambassador to China
UEW - Students protest over discrepancies in their results.