'I had differences with Atta Mills but he was an outstanding personality' – Rawlings
Former President Jerry John Rawlings has paid tribute to his late former vice president, Prof John Evans Atta Mills.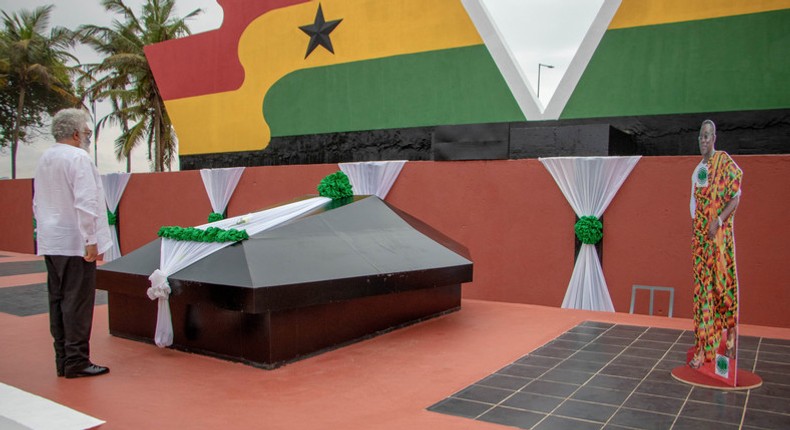 He said although he had his differences with Mills' Presidency, the man was an outstanding personality.
Today, July 24, 2020, marks exactly eight years since Mills passed on as Ghana's first President to die in office.
Rawlings joined other NDC executives to visit the final resting place of the former head of state at the Asomdwee Park in Accra.
In a Twitter post, he admitted that he had problems with Mills' Presidency due to matters relating to corruption.
The NDC founder was, however, quick to add that the Mills he knew and worked with was an outstanding personality.
"This morning, I visited the resting place of the late President Atta Mills to pay my respects," Rawlings wrote.
"I had differences and misgivings over his Presidency on matters related to serious cases of corruption and killings in the administration before his.
"The Atta Mills I knew and worked with as my VP was an outstanding personality. I pray his soul rests in peace," he added.
Recommended articles
We can work together to achieve our goal - Ato Forson
NDC reasserts its position on the need for Akufo Addo to downsize gov't
Six perish in gory Akuse accident
Mahama expresses disappointment in minority for approving ministers
Eschew bitterness and support the new leadership - Gyampo slams NDC MP's
Justices George Koomson and Ernest Gaewu approved by parliament as Supreme Court judges
KT Hammond, Bryan and other new ministers approved by parliament (How MPs voted)
NDC MPs reject two justices nominated to the Supreme Court
Parliament suspends sitting over disagreements on how to vote for Supreme Court and Ministerial nominees