Here's what giving up sugar and alcohol can do for you in just one month
A man has attempted to live without alcohol and sugar for a month to see what impact it would have on his health. The film, from Dutch online television channel, Lifehunters, follows a volunteer as he goes for 30 days without the two treats. Although Sacha, 22, loses 8lb in weight, sees his blood pressure fall from 135 to 125 and gets his cholesterol to drop eight per cent, the fasting period proves far from easy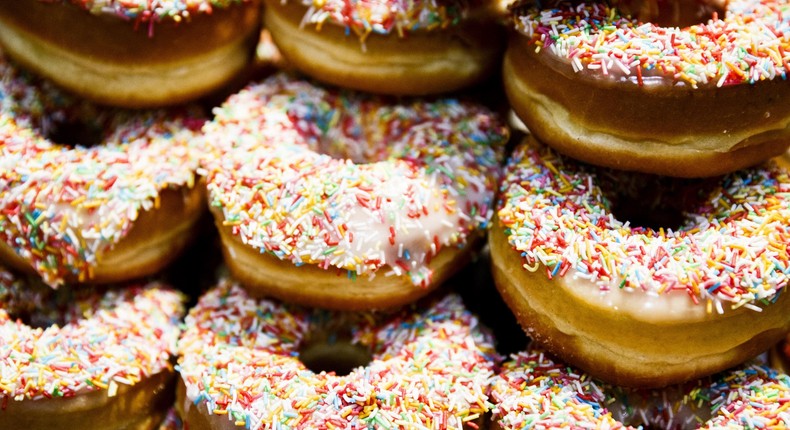 A Dutch man recently did a one-month sugar and alcohol fast and watched his cholesterol, weight and blood pressure fall.
A man has attempted to live without alcohol and sugar for a month to see what impact it would have on his health.
The film, from Dutch online television channel, Lifehunters, follows a volunteer as he goes for 30 days without the two treats.
Although Sacha, 22, loses 8lb in weight, sees his blood pressure fall from 135 to 125 and gets his cholesterol to drop eight per cent, the fasting period proves far from easy.
After just one week, he reports feeling "cranky" and constantly hungry.
"Sugar wants vitamins," a nutritional expert tells him. "It makes you feel tired. Alcohol does that too. You dehydrate.
"You will feel fitter after a month without sweets, alcohol and preserved foods."
Food containing added sugar is everywhere, he finds, including places you might not expect.
A carton of iced tea contains 10 lumps, a bowl of tomato soup five lumps, and a stir fry sauce for two has a massive 15 lumps of sugar.
The fasting host is forced to live off fruit, yoghurt and salads. But after three weeks he finds his cravings start to diminish and he has much more energy.
The 22-year-old told the Daily Mail that one of the most interesting impacts of the challenge was when he started eating sugar again. "I got arrhythmia twice in one and half weeks when I started eating sugar again," he said. "I also had trouble sleeping; I couldn't fall asleep before 3am or 4am. [My body] wasn't used to sugar any more and it came in like a drug.'
Sugar has range of ill-effects on the body including obesity, heart disease, diabetes, tooth decay and possible cancer, according to experts.
The World Health Organisation recommends that we get just 5% of our daily calorie intake from sugar.
But the UK National Diet and Nutrition survey has found that sugar intake in the UK is much higher with adults getting 12.1% of their calories from sugar.
And teenagers are the worst offenders with 11-18 year-olds obtaining 15.6% of their calorie intake from the sweet stuff.
Experts advise that cutting down on sugar can lower your chances of getting type-II diabetes, heart disease and other diseases linked with being overweight.
Get our Top Stories delivered to your inbox
Recommended articles
Three hundred and eight officers graduate from the Police Academy
Married woman stabs husband to death for trying to have sex with her
Sue or report me to police if I've ever extorted money from you – Anas dares critics
Police officer to face court for allegedly defiling 14-year-old girl
Akufo-Addo's govt to spend GH¢80 million on National Cathedral in 2023 – Okudzeto Ablakwa
2023 budget provides no hope for the youth – Minority
Opinion: ECG is abusing monopoly and frustrating Ghanaians
Bawumia announces landmark new policy for Ghana to use gold to buy imported oil products
Government bans use of V8s, V6s from 2023, except for cross-country travels