I'm a no nonsense person – Hawa Koomson 'fires' critics
The Minster of Fisheries and Aquaculture, Mavis Hawa Koomson has defended her brash nature in the Ghanaian political terrain.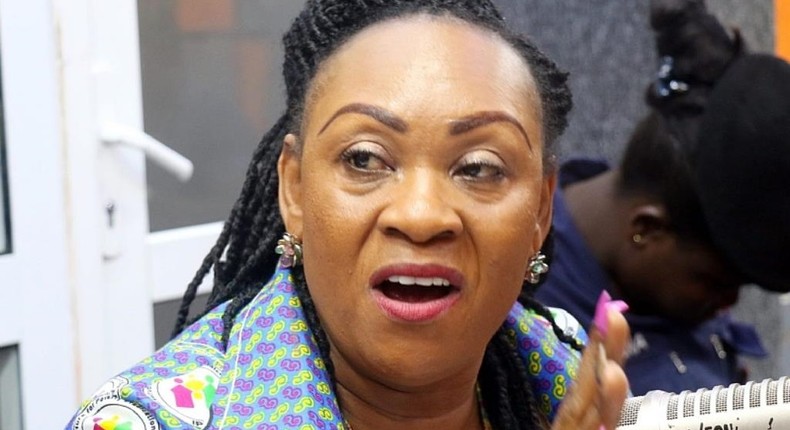 According to the New Patriotic Party (NPP) Member of Parliament for Awutu Senya East, she is a nice person.
She, however, stated that she does not take any malarkey from anyone because of her nice personality.
In an interview with Paul Adom Otchere on Good Evening Ghana, she said: "Hawa Koomosn is a nice person, just that I am a no nonsense person."
Mrs. Koomson, who has been at the centre of different controversies in the past years said the treatment of female politicians in the country has made her who she is.
The Minister said role of women in politics is not getting any better and it's becoming worse.
She further noted that women in Ghana's political terrain are considered as prostitutes by their male counterparts.
According to her, women have had to ensure severe hardship and verbal abuse meted out to them by their male counterparts.
"A female politician goes through a whole lot embarrassments. They think if you are a female and are a politician you are a prostitute. Why do you have to say it? We are not.
"We are fighting for our place in politics and in governance. There is no way we can do very good politics and governance in our country without women participating.
"I contested against a male in 2021 and 2026 and the kind of insults. To the extent that I was told my three children have different fathers which is not true. I have three children with the same man my husband.
"To me, it is high time we moved away for refusing women their rightful place when it comes to politics. This is within our political party and our opponents.
"Political offices are not too sensitive for women to hold. I know there will be a time in this country that we will have a female president or even a female vice. We saw it in the last elections when the NDC went in for Professor Jane Naana Opoku Agyeman.
Watch her interview below
JOIN OUR PULSE COMMUNITY!
Recommended articles
Go and complete the E-block yourself if you're tired – Akufo-Addo to Aflao Chief
35-year-old woman commits suicide after husband grabs new lover
I made a mistake on Cape Coast harbour - Nana Addo
Accra is the second most expensive city in the world – Survey reveals
Transport fares may go up soon - GPRTU hints
Mahama won the 2020 elections but it was "shamefully stolen" – Chief
NPP is considering Ursula Owusu as running mate for 2024 elections – Kwesi Pratt
It was nonsensical to misinterpret Mahama's 'do or die' comment - Chief
Our culture doesn't accept LGBTQ+ - Nana Addo told