What do you need four more years to do? - Mahama asks Akufo-Addo
Flagbearer of the National Democratic Congress (NDC), John Dramani Mahama has stated that the performance of President Akufo-Addo and his government has been shambolic.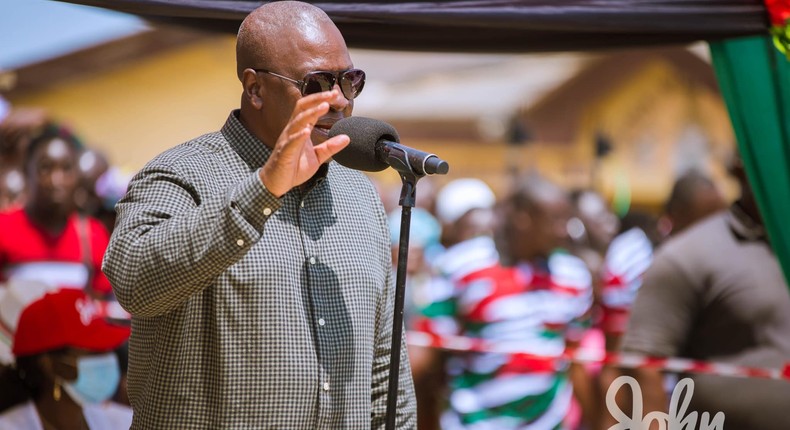 Addressing members and supporters of NDC at Daboase in the Wassa East constituency of the Western Region, Mr Mahama observed that the economy on the watch of President Akufo-Addo is burdened with huge debt, with the recent IMF report indicating that Ghana's debt to GDP is 76 per cent.
He said, apart from the unprecedented huge debt to GDP ratio, there is also an unenviable budget deficit of 15 per cent, which is also historic.
Mr Mahama said Ghana's economy has grown steadily since 1992 to create opportunities for citizens until this year when the economy slumped due to mismanagement by the government, causing unbearable hardship for many families.
"And they are preaching four more. Four more for what. Ghanaians gave you four years and you failed and you are saying four something. For more years for what?", he asked.
Mr Mahama said another mandate for President Akufo-Addo will spell doom for Ghanaians as it would lead to another four years of opportunities for a privileged few, and poverty and hardship for many people.
He said the December 7 general elections offer an opportunity for Ghanaians to rescue the country and its destiny from the clutches of president Akufo-Addo and his privileged few, and thereby create opportunities and prosperity for all Ghanaians.
JOIN OUR PULSE COMMUNITY!
Recommended articles
20-year-old Ghanaian woman throws 3-month-old twin baby boys into a well
I can't speak publicly on national issues; I'm no more Presby moderator – Rev. Martey
I'm not silent about national issues; I speak through text messages now - Rev. Martey
Video: I won't spend money to fix Accra floods till there's an attitudinal change - Akufo-Addo
Ghana's presidential jet to undergo major repair works – Defence Minister
Ghanaian MPs don't intentionally take double salary – Bagbin
Akufo-Addo does not have legal backing to declassify Achimota Forest – Minority
Ghana Meteorological Agency introduces 'My Flood Risk Accra' mobile App
Western Region hasn't recorded a monkeypox case – Ghana Health Service