'Legalise marijuana, the ghetto youth are complaining' – Bukom Banku tells Akufo-Addo
Controversial boxer Braimah Kamoko, popularly known as Bukom Banku, has called on President Akufo-Addo to legalise marijuana in Ghana.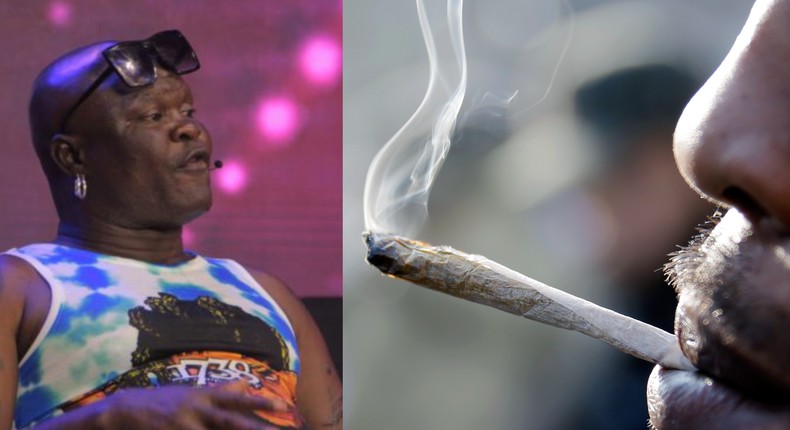 He said countries like the United States of America and Jamaica have legalised marijuana and Ghana must also follow suit.
"His Excellency, Nana Akufo-Addo, say something," Bukom Banku said in a video shared on Facebook by musician Wisa Greid.
"All the ghetto youth are crying and complaining. Legalise the ganja in the country. Look at America and Jamaica, it's legalised there."
The smoking of marijuana is currently illegal in Ghana, however, it was recently legalised for medicinal use only.
Meanwhile, Bukom Banku is set to earn GHc600,000 from his next three bouts, making him the highest-earning home-based boxer in the country.
This comes after the former WBO Africa Light Heavyweight champion signed a contract with local promotional giant Box Office Promotions.
The three-fight deal, which was signed on Sunday at the Alisa Hotel, will see Bukom Banku earn GHc200,000 per fight.
According to a report by Joy Sports, the fights will come off during the 2022-23 boxing calendar against yet-to-be-named opponents.
The controversial boxer is said to have earned GHc35,000 when he fought against bitter rival Ayittey Powers in May 2014.
Meanwhile, local boxers are estimated to earn between GHc5,000 and GHc7,000 per fight, with Ghana's Lightweight champion Michael Ansah taking home GHc7,000 during his recent bout against Sherrif Quaye.
This makes Bukom Banku's paycheck quite substantial, and will also make him the best paid home-based Ghanaian boxer.
Bukom Banku, whose real name is Braimah Kamoko, has lost just once in his boxing career – a defeat that came against Bastie Samir four years ago.
JOIN OUR PULSE COMMUNITY!
Recommended articles
Dortmund's Bellingham fined 40,000 euros for match-fixing comment
Rangnick appoints sports psychologist to help Man Utd players
'I have to get better' – Thomas Partey rates himself 4 out of 10 at Arsenal
Kovacic tests positive for Covid in 'huge setback' for Chelsea
Bayern to ring changes for Barcelona behind closed doors
Watch: PSG uses Rocky Dawuni's song to celebrate Messi's 7th Ballon d'Or
Blame GFA for Dominic Adiyiah's failure to become Gyan's replacement – Dan Quaye
Reality bites again for Barca ahead of rescue mission away at Bayern
Premier League riches sow fear among Champions League rivals