John Paintsil advises Ghanaians to refrain from fueling Kwadwo Asamoah-Ayew rivalry
The former Black Stars defender believes the Ayew brothers are friendly, contrary to perception that they are trouble makers in the senior male national football team of Ghana.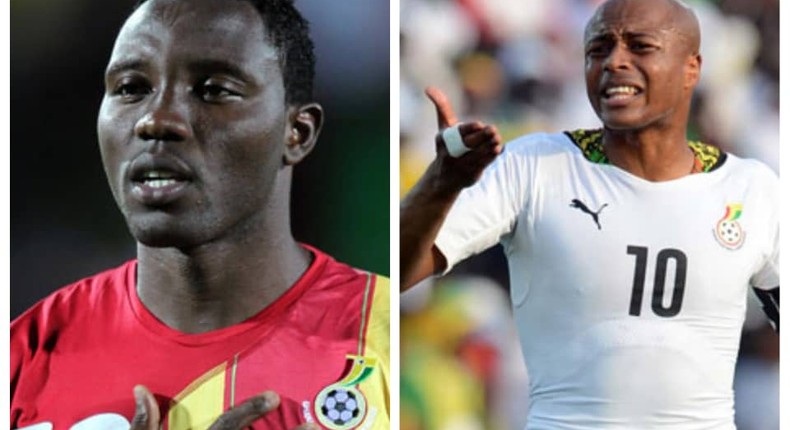 John Paintsil has cautioned the Ghanaian to refrain from creating tension between Kwadwo Asamoah and the Ayew brothers.
The 29-year-old Inter Milan left back has opted out of the Black Stars Africa Cup of Nations qualifier against Ethiopia on Sunday due to a knee injury.
Reports went viral that Kwadwo Asamoah's that absence from the Black Stars is because he is not comfortable playing with Andre Ayew and Jordan Ayew amidst juju rumours.
''It's high time Ghanaians understood football isn't about hatred. Even opposition players exchange pleasantries after games. One cannot claim Asamoah has excused himself because of the Ayews, he is a very discipline guy and loves everyone, and he creates jokes more than any player in camp,'' Painstil told KUMASI FM 104.1MHZ.
He continued: ''The Ayew brothers on the other hand are very friendly contrary to the perception in the public domain. Stop creating tension between them because there is no fight in camp. In my twelve years in camp.
''I never experienced black magic (juju) within the players. These players have children and it affect them in school when they hear people talk about the non-existing tension between their fathers, they grow with hatred for each other.
''The national team gives opportunity to Ghanaians who wants to seek greener pastures so the most important thing is praying for the team's progress rather than dwelling on negativity.''
Recommended articles
Super Eagles not seeking revenge against Ghana - Yusuf
Rumours: Chelsea considering buying Harry Maguire from Manchester United
How to cashout from La Liga with Bet9ja odds this weekend
Bet9ja offers juicy odds on Premier League games this weekend
Rape: 'I've had sex with 10,000 women' - 20-year-old reveals what Mendy told her
Thomas Tuchel and Antonio Conte hit with £60,000 fine after London Derby brawl
2014 World Cup: Black Stars boycotted training, kissed money and still lost – Afriyie Ankrah
Napoli agree loan deal for Tottenham flop
GFA announces Ghana vs Brazil pre-World Cup friendly in September