'Foolish Shatta Wale cracked an expensive joke, the IGP will not laugh' - Samini chides Shatta Wale
Ghanaian reggae musician Samini has waded into the current Shatta Wale shooting incident after it was reported that he was shot by unknown gunmen at East Legon, in Accra.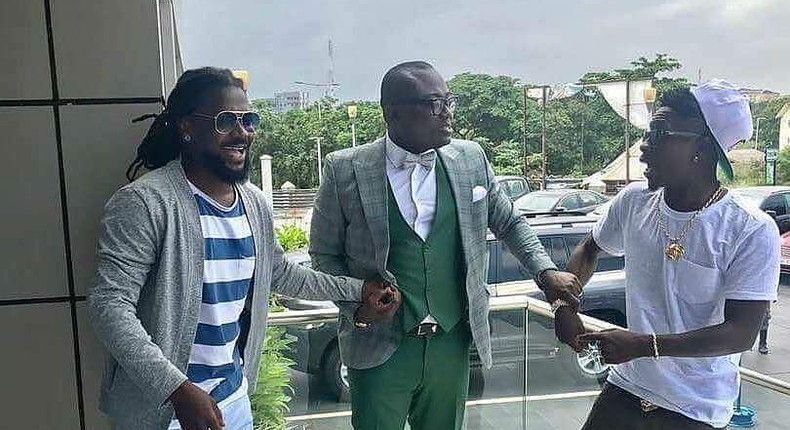 Samini believes Shatta Wale never envisaged his 'prank' becoming so serious which might necessitate him going into hiding.
He claims the shooting incident was all an expensive joke which the current IGP, George Akuffo Dampare was not having it at all. The IGP has already initiated an investigation into the matter.
In a tweet, Samini alleges that, with the matters getting intense, 'gangster' Shatta Wale is currently on the run and nowhere to be found in Accra.
"Chairman @shattawalegh go crack an expensive joke but the current #igp is not laffin ... now the matter chop hot and gangsters are on the run Accra is #burning. ok I stop I stop Bandana ne gyimiiii di3 ooooo d333bida smh," he tweeted Tuesday morning.
Shatta Wale was reportedly shot yesterday, October 18, 2021, by unknown gunmen at East Legon in Accra. A message by his personal assistant Nana Dope confirmed that he was receiving treatment at an undisclosed health facility.
Prior to the shooting incident, a Ghanaian Prophet named Stephen Akwasi, prophecies that Shatta wale was going to be shot on October 18, 2021.
It turns out that Shatta Wale staged his shooting incident using the mobile phones of Nana Dope and Deportee to announce his death to confirm the prophecy.
Upon the Ghana Police Service commencing investigations into the alleged shooting incident, Shatta Wale has spoken from his hideout.
He claims his life is threatened and emotionally traumatized over the incessant threats on his life by false prophets in the country.
Shatta Wale expressed his disappointment in the Police for failing to take action against the prophets who threatened his life.
While apologizing to this father, Nana Dope, Deportee, and his fans, Shatta Wale vows not to return to Ghana until the laws work.
JOIN OUR PULSE COMMUNITY!
Recommended articles
Shatta Wale, Medikal cases adjourned to allow musicians travel outside for concerts
Akuapem Poloo appeals 90-day jail term again
'Hypocrisy' - A Plus descends on Sarkodie for going soft on Nana Addo but hard on Mahama
'We care less if the media supports us or not' - R2Bees
'Didn't You Say Nana Toaso?' - Sarkodie slammed for talking about hardship in Ghana
Emeka Ike to launch Nollywood TV channel
King Promise stuns on MOBO awards red carpet with sneakers that cost over GH8000 (PHOTOS)
'All we ask for is the right environment to hustle' - Sarkodie
Flyboy Geesus releases 'Disturbing Ghana' LP