Today's Front Pages
Here are today's newspaper headlines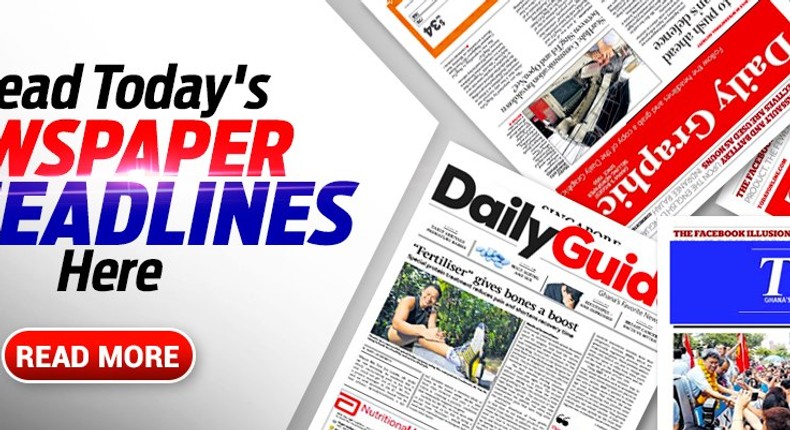 BE READY TO PAY MORE FOR POWER – PRESIDENT
President John Mahama has asked Ghanaians to be prepared to pay a little more for electricity if they reliable power supply.
AHAFO ANO NORTH NDC TREASURER STABS CHAIRMAN
There is fear among some members of the Ahafo Ano North branch of the National Democratic Congress (NDC) following the stabbing of the constituency chairman by the treasurer.
FAKE DOCTOR SWINDLES STUDENTS
A 45-year-old self-styled doctor has been arrested by the Swedru Police for allegedly falsifying the West African Senior School Certificate Examination results of a number of senior high school graduates.
NDC CHAIRMAN STABBED OVER CAR
An open fight over a National Democratic Congress party vehicle at Ahafo-Ano North constituency in the Ashanti Region turned bloody when the party's treasurer stabbed the chairman twice last Sunday evening.
President John Mahama is pushing for higher electricity tariff if Ghanaians want dumsor to end.
President John Mahama on Monday cut the sod for the reconstruction of phase one of the Kumasi Kejetia Central Market to officially commence.
TARIFFS HIKE: PART OF IMF BAILOUT
President John Mahama is backing calls for an increase in utility tariffs can be seen in the light if strategies aimed at scrapping subsidies.
JUDICIARY MUST SANITISE ADMINISTRATION OF JUSTICE – CJ
The Chief Justice, Georgina Theodora Wood has tasked the judiciary service to do what is right and noble in order to avoid creating an environment in which misconduct could thrive in the administration of justice.
HIV/AIDS INFECTION INCREASES IN CAPE COAST
A total of 329 persons in the Cape Coast Metropolis got infected with HIV/AIDS in 2014 as against 301 in 2012, representing an increase of 4.3 percent over the past two years.
AFDB FUNDS SMES TO LIST ON GAX
The African Development Bank (AfDB) is to support the listing of Small and Medium Scale Enterprises (SMEs) on the Ghana Alternative Exchange (GAX) with an interest-free funding of $600,000 over a two-year period.
From 2009 to 2014, compensation expenditure has accounted for over 70 percent of spending on education – leaving little for infrastructural development and assets to improve equality delivery of education in the country.
Recommended articles
The threat of external invasion by criminal gangs in the Central African Republic
You've made Ghana broke through your recklessness – Occupy Ghana slams Akufo-Addo's govt
Son of Mozambique's ex-president and 8 others jailed for corruption
Don't engage in panic withdrawals – Dr. Stephen warns Ghanaians amid Debt Exchange Programme
Man arrested for shooting Okada rider he hired, escaping with motorcycle and other items
Parliament to consider censure motion against Ken Ofori-Atta today
Appointment Committee recommends approval of 2 Supreme Court judges
Ghanaians will no longer be paying GH¢1 and 50p as road tolls in 2023 — Roads Minister
We'll reject 2.5% VAT increment — Minority