Ban harmful cultural practices that undermine women's rights - WiLDAF
Harmful cultural practices are one of the major factors contributing to inequitable schooling environments.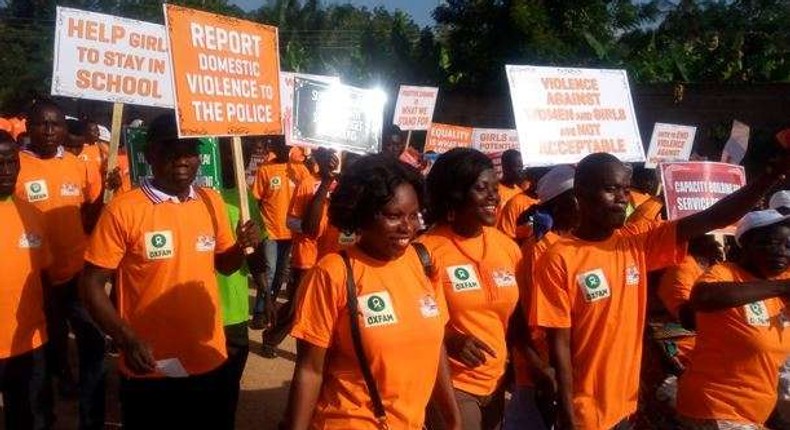 Various activities were held to mark this year's international women's day.
Girls following initiation school are given away in marriage as they are regarded as adults following the start of menstruation.
In Accra, the National Programme Coordinator at Women in Law and Development in Africa,(WiLDAF), Melody Darkey, urged stakeholders to advocate gender parity of women.
A statement, issued on Tuesday by WiLDAF, and copied to Pulse.com.gh said government must "Ban harmful and oppressive cultural practices that undermine women's rights including those that prohibit women to inherit land and other resources."
The commemoration of the International Women's Day should not only be full of flamboyant statements of mere rhetoric, but give women hope and assurance that they matter.
The day is being celebrated under the global theme: "Women in the Changing World of Work: Planet 50:50 by 2030" and it's aimed at ensuring gender equality by the year 2030.
WiLDAF Ghana and Oxfam in Ghana has called on government, traditional leaders and other key land stakeholders to support and honour the demands of rural women proclaimed in the Kilimanjaro Initiative Charter of Demands (Charter of Demands) as way of advancing women's land rights in Ghana.
The Kilimanjaro Initiative is a campaign spearheaded by Civil Society Organisations which brought together over 500 rural women from across 22 African countries including Ghana to the foot of Mt. Kilimanjaro in Tanzania, where they developed and proclaimed a Charter of Demands on access to land and natural resources in October, 2016. The Charter of Demands was presented to the African Union, for onward presentation to UN Women.
The Charter of Demands contains fifteen provisions emanating from rural women on strengthening their land rights, six of which have been prioritised by key Ghanaian and agricultural stakeholders.
Sensitization of leaders (Traditional, community, religious and land sector actors) youth, people with disabilities, and women on the laws and policies on land
Women empowerment by enabling them access their land rights, technology and financial resources to improve their livelihood
Ban harmful and oppressive cultural practices that undermine women's rights including those that prohibit women to inherit land and other resources
Women and communities to have a say on what land, investors and companies invest in their communities. These investors must be obligated to provide information about the impact of their investment (sustainability- economic, environment, health, social and infrastructure)
Enact and amend  laws to provide safeguards to women's land rights
Translate land policies and laws into simplified versions and accessible local languages
Get our Top Stories delivered to your inbox
Recommended articles
Akufo-Addo is complicit in the galamsey menace – Murtala Mohammed
Lady closely misses death while using loaded gun for TikTok video (watch)
Bereaved family clashes with mortuary officials as corpse is missing (video)
Repatriate all the illegal payments back into the Petroleum Fund – Mahama to Ofori-Atta
Ghanaians rubbish ECG's claim that system challenges have been resolved
Your performance and hard work have achieved so much for Ghana – Ya-Naa praises Bawumia
I'm not into galamsey – Chairman Wontumi responds to critics
EMY Africa Awards: Ghana's female pilot Audrey Maame Esi wins Young Achiever of the year
Bawumia's digitalisation is the future Ghana needs