Kevin-Prince Boateng becomes first black ambassador for Berlin ahead of Euro 2024
Ex-Ghana international Kevin-Prince Boateng has been named ambassador for the city of Berlin as Germany prepares to host the 2024 European Championships.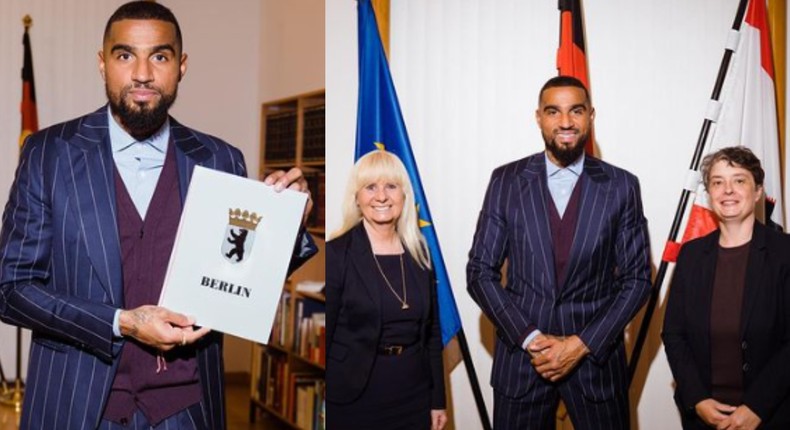 The 35-year-old has become Berlin's first black ambassador, with the city being one of 10 venues to host Euro 2024.
Boateng was born in Berlin and it was in the city that he first developed a love for football after joining Hertha Berlin as a seven-year-old.
Despite going on to feature for several teams across Europe, the forward returned to his boyhood club as a free agent in the summer of 2021.
He started his career at Hertha in 1994 and rose through the ranks to become a first-team player in 2006.
Although he switched nationality from Germany to play for Ghana in 2010, Boateng has always had a connection with the city of his birth.
As an ambassador for Berlin at Euro 2024, the former AC Milan star will help to market the city to fans and brands who want to visit for the tournament.
"The first dark-skinned ambassador for the city of Berlin. We have made history," a delighted Boateng wrote on Instagram.
In a separate post, he stated: "It's official: I am the new ambassador for the City of Berlin at UEFA Euro 2024 in my home country. Looking forward to welcoming guests from all over Europe to my hometown.
"It is a very special honor to represent the city that gave me everything 18 years ago. She's the cornerstone of my career today. Time to give back to the city. I'm looking forward to the new task.
"Above all, I am happy to present the Sportmetropole Berlin at its best. Thank you. Thank you to the people who have always believed in me and supported me this far. This is Berlin!"
Meanwhile, the Sports Senator for Berlin, Iris Spranger, said Boateng was chosen as ambassador due to his roots and commitment towards social issues.
"Kevin-Prince Boateng is our ambassador for the #EURO2024. Because of his Berlin roots and his commitment to social issues and against racism, he represents Berlin excellently," said Spranger.
More from category
Sevilla v Roma: 1xBet analyzes the Europa League final match

Ernest Nuamah gets debut Black Stars call-up in Hughton's squad for Madagascar clash

The reception Ghanaians gave me influenced my Black Stars switch – Tariq Lamptey
Recommended articles
All set for African Open Powerlifting Championship in Accra
Sammi Awuku cuts sod for ultramodern basketball & volleyball court in Okuapeman school
Sevilla v Roma: 1xBet analyzes the Europa League final match
Ernest Nuamah gets debut Black Stars call-up in Hughton's squad for Madagascar clash
The reception Ghanaians gave me influenced my Black Stars switch – Tariq Lamptey
Chris Hughton to name Black Stars squad for Madagascar clash on May 31
Anthony Baffoe tackles agents who prioritise money over player development
Joshua Clottey: Boxing has no future in Ghana
Refereeing has been fair in Ghana Premier League this season – GFA General Secretary