How to prepare spring rolls with bean sprout
Pulse daily DIY recipe teaches prospective chefs how to prepare healthy, Ghanaian dishes in a simple way.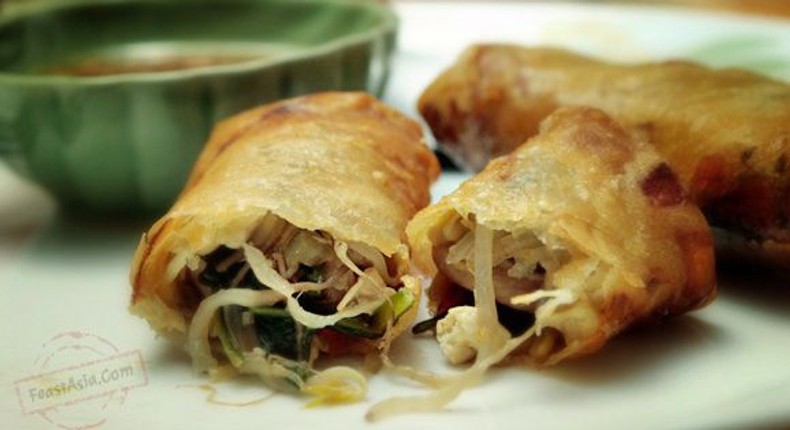 n a bowl, whisk together the vinegar and soy sauce. Stir in the root ginger and let stand for 1–2 hours so flavours mingle. Heat oil in a wok and stirfry all vegetables for about 2 minutes. Add salt, sugar, soy sauce and pepper. Stirfry for 1–2 minutes, until vegetables are tender but still retain some bite. Turn off heat and let vegetables cool.
Place one wrapper on a flat surface and put roughly 2 spoonfuls of mixture down one side, about 5 cm (2 in.) from edge. Pull that edge over filling, tuck in ends and roll wrapper into a tight log. Seal edges with a little water or mixture of cornflour and water. Keep finished rolls under damp cloth or clingfilm to prevent them from drying out. Heat enough oil in a wok for deep-frying. Fry rolls in batches for 2–3 minutes, until crispy and golden, then drain on kitchen towel. Serve hot with dipping sauce.
Source: thisisyourcookbook
JOIN OUR PULSE COMMUNITY!
Recommended articles
DIY Recipes: How to make Rice Saabo (Local Ghanaian wrapped rice)
Kafui Danku is serving the ultimate style inspiration for birthday celebrations
Sugar: Here's how to use this ingredient for a glowing skin
4 foods that make your butt bigger naturally
Mr Eazi announces Detty Rave Campus concerts for UCC, KNUST, Legon and UENR
Nana Ama McBrown wore 5 different outfits to celebrate her 45th birthday [Photos]
Open relationship? Here's what it means if your partner asks for such relationship
4 best ways to approach your partner when sex is getting boring
Global Citizen Festival: Accra event launched