Boakye Agyarko ignores Akufo-Addo at late brother's One Week
A video of the two former friends greeting has gone viral on social media and people are talking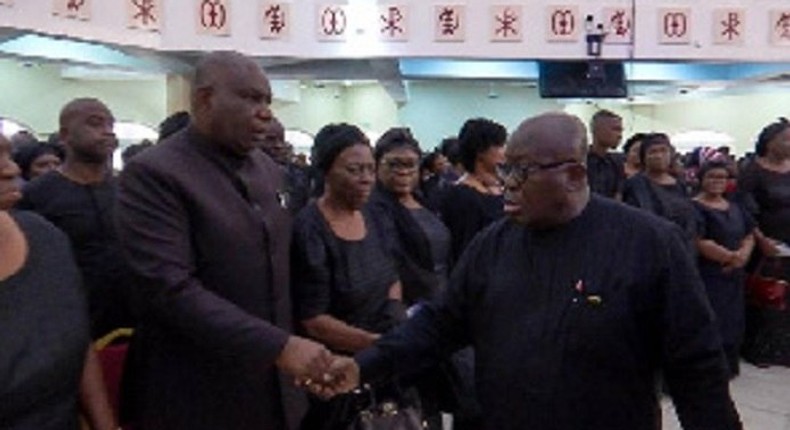 A video of the two former friends greeting has gone viral on social media and people are talking.
Akufo-Addo who attended the one week observation of the late brother of Boakye Agyarko, Ayawaso West Wuogon MP Emmanuel Agyarko could not look into the eyes of his former minister.
The former Energy Minister appeared to also feel irritated by the handshake of Akufo-Addo, merely extending his hand shabbily.
Then Minister of Energy, Mr Boakye Agyarko was relieved of his position, following the controversy surrounding the review of the Ameri power deal.
A press statement signed and issued by Mr Eugene Arhin, Director of Communications at the Presidency in August said President Akufo-Addo by a letter dated August 6, 2018, "relieved the Minister of Energy, Mr Boakye Agyarko, of his position, with immediate effect."
"President Akufo-Addo has asked Mr Boakye Agyarko to hand over his office to the Minister of Lands and Natural Resources, Mr John Peter Amewu, who will act temporarily as Minister of until a substantive appointment is made," the statement said.
"The President wishes Mr Boakye Agyarko well in his future endeavours," the statement added.
Mr Agyarko has since been silent and unseen until the demise of his brother.
President Akufo-Addo extolled the loyalty of the Agyarko family to the Dankwa-Dombo-Busia tradition, right from their father the Senior Agyarko to the current generation, saying the late MP, Emmanuel Kyeremanteng Agyarko's death is a loss for the NPP as a pillar has fallen. The President said this when he paid the family a visit.
Kyeremateng Agyarko, who is the brother of the former Energy Minister Boakye Agyarko was formerly Chief Executive Officer of the Food and Drugs Board and has been NPP MP for Ghana's most elite constituency since 2012.
President Akufo-Addo was so solemn during his visit to the family house at Airport Hills that National Organizer of the ruling party, Sammi Awuku designated to speak on his behalf, MyNewsGh.com learnt.
"According to Mr President, from his father's era, Hon. Agyarko's father was part of the foundation and the founding members of the UP. Together with his family, they've stayed with the Dankwa-Dombo-Busina tradition." he said
Mr Sammy Awuku added: "Hon Agyarko, he is one of the pillars of our party."
"Mr President and the National Chairman, concludes that this is our own and we've lost a very great asset. For him as a president, he's lost one of his strongest members of parliament, for us as a party, we've lost one of our strongest Members of Parliament and also one of our pillars."
"Mr President recalls how he is always able to win this constituency in spite of its difficulties, and so he is deeply sad and expresses his deepest sympathies to his wife, the family, to the constituency [Ayawaso West Wuogon] and also to the friends and loved ones," Mr Awuku said.
Mr Emmanuel Kwabena Kyeremateng Agyarko, died at the age of 60.
Get our Top Stories delivered to your inbox
Recommended articles
Nana Akufo-Addo charges the youth to embrace responsibility
Kwame Nkrumah didn't achieve anything; Akufo-Addo is better than him – Agya Koo
UEW stakeholders set October 7, deadline to settle GPA issues after protests
Chief in Mankessim murder case is alive – Police
President Akufo-Addo booed during speech at Global Citizen Festival
Judges are not above the law; they can be criticized – Hassan Ayariga
Three more students arrested in connection with Katanga, Conti riots
We didn't issue Aisha Huang's return visa – Ghana Ambassador to China
UEW - Students protest over discrepancies in their results.