NPP Invincible Forces threaten to demonstrate over jobs
The group numbering over 2000 have threatened to protest if their demand is not met by 20th November.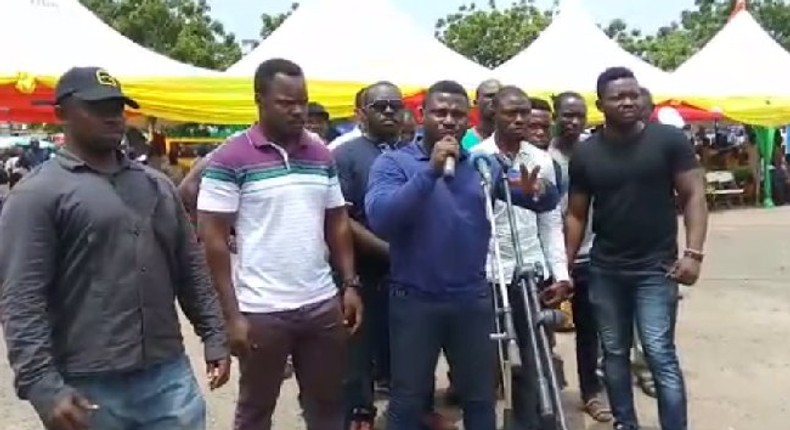 The pro-New Patriotic Party (NPP) group,
The aggrieved Invisible Forces members said they are being ridiculed for their unemployment, despite the fact that they worked to bring their party to power.
The Ashanti regional Chairman of the Invisible Forces Abdul Karim Mohammed speaking to Accra-based Starr FM said President Nana Addo Dankwa Akufo-Addo must intervene to provide them jobs.
He said "In Ashanti region alone Invisible have 2785 men…at least we should know what to tell them which would make us calm down."
"The person we want to intervene is the President himself because we have heard so many promises from the ministers and others so now we want the government to come out and let us know if they have believe is us and that they can still find somewhere to put the boys.
"Because most of the ministers they will just give some assurance that they don't believe in it just to manage the situation," he added.
The Invincible Forces' concerns with jobs came to the fore just days after Nana Kojo Bamba, the Ashanti Regional organizer of  vigilante group, Delta Force was appointed as the Deputy National Director of Operations of the youth wing of the party.
Since the President took over the reins of government in January 2017, there were also promised with luxurious life and good living during the NPP campaign as majority of them were struggling to make ends meet.
The boys known as the Kandahar boys, Delta forces, Burma Camp Youth, the vigilante groups as well the invincible forces were all promised with a job but none has been achieved yet.
Earlier, they broke into the office of the Ashanti Region Security apparatus and dragged out the Regional Security Coordinators out of their office.
Due to lack of hunger and successive jobs promised them.
JOIN OUR PULSE COMMUNITY!
Recommended articles
We'll resist any attempt by you to disenfranchise Ghanaians - CDD-Ghana to EC
#FixTheCountry procures 5000-acre land to create jobs for Ghanaian youth
We need a national dialogue on the worsening economy - Mahama
Chief Imam blesses Ablakwa, Ghanaians say his 'presidential ambition' is cemented
Public toilet attendant bathes customer with faeces over 50 pesewas (video)
Your exceptional leadership in West Africa appreciated by the US – Nana Addo told
Nana Addo listed among highest-paid African presidents
I'm willing to help Akufo-Addo if he calls me – Dr. Amoako Baah
Akufo-Addo has lost touch with realities in Ghana – Okudzeto Ablakwa