AC Milan players slay in jackets made by Virgil Abloh's Off-White label
Players of AC Milan were neatly styled in jackets made by Virgil Abloh's Off-White fashion label as they jetted off to London for their UEFA Champions League game against Chelsea.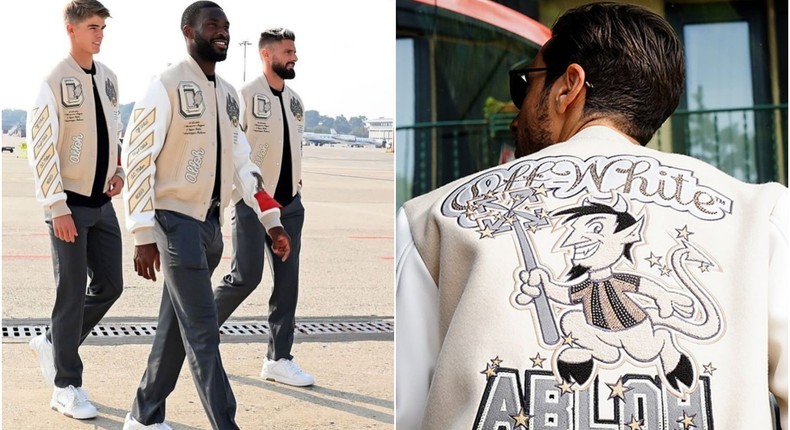 The Italian giants recently signed a partnership deal with Off-White to be the club's official style and culture curator.
Off-White was founded by Ghanaian-American designer and entrepreneur, Virgil Abloh, who passed away at age 41 in November 2021.
Despite his death, though, his fashion label continues to thrive by collaborating with some of the biggest brands across the globe.
AC Milan's partnership with Off-White will see the label provide clothing for the club's men's and women's teams off the pitch.
Ahead of the club's Champions League game against Chelsea on Wednesday, its players were spotted in their customised jackets as they boarded the aeroplane.
The jackets had Virgil Abloh's name boldly written on the back, as well as the label's name on top.
The chief revenue officer of AC Milan, Casper Stylsvig, believes the partnership will help the club to engage with the younger generation.
"The new journey is a further testament to AC Milan's ability to engage with younger generations through the convergence of football with other sectors," he said.
Meanwhile, AC Milan will be aiming to maintain their position as Group E leaders when they face Chelsea on Wednesday.
The Rossoneri have four points from two games but are up against a Chelsea side that is winless and in dire need of points.
More from category
FIFA World Cup 2022 goalscorers (Golden Boot rankings)

Day 12 Roundup: Belgium, Germany tell World Cup 'e go be' as Morocco, Japan top their groups

FIFA World Cup 2022: All results, fixtures, scores, live standings
Recommended articles
FIFA World Cup 2022 goalscorers (Golden Boot rankings)
Day 12 Roundup: Belgium, Germany tell World Cup 'e go be' as Morocco, Japan top their groups
FIFA World Cup 2022: All results, fixtures, scores, live standings
Belgium's not-so golden generation crash out after disappointing Croatia draw
Hand of Suarez: Ghana and Gyan's biggest doom in FIFA World Cup tournament
'I was playing colts in Ashaiman' - Thomas Partey recounts Suarez's handball incident
My performance for Ghana is based on what the coaches instruct me to do – Partey
Ghanaian fans arrested in Qatar for selling World Cup match tickets
Nike team up with Liverpool shareholder LeBron James in honour of Merseyside club