Try this pan seared salmon in lemon butter sauce for lunch
Salmon is packed with omega-3 fatty acids and vitamin B12 in addition to selenium and choline.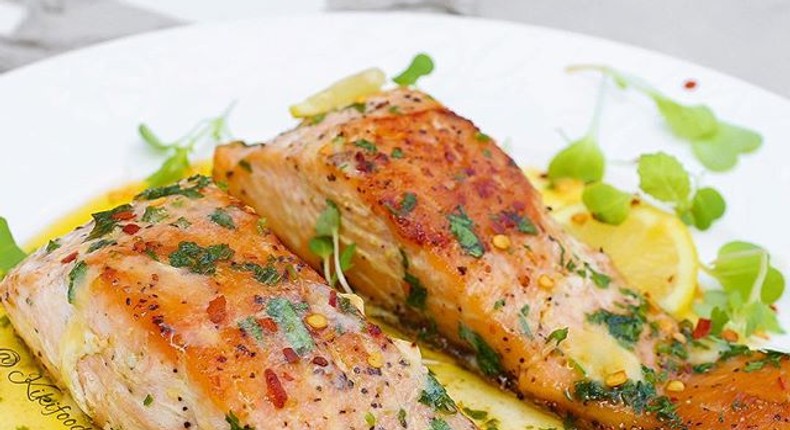 3 tablespoons lemon juice, divided
1 tablespoon vegetable oil
8 cloves garlic, finely chopped or minced
4 tablespoons fresh chopped parsley leaves, divided
Lemon slices of half a lemon
Salt and pepper, to season
Pat dry room temperature salmon filets with a paper towel. Season all over with salt, pepper. Squeeze 1-2 teaspoons of lemon juice over each filet, and rub all the flavor in.
Heat the olive in a large non-stick pan over medium-high heat until hot. Place salmon filets in the pan and press until the flesh comes into contact with the pan. Sear, undisturbed, for 3-4 minutes until crispy and golden.
Flip and sear the other side of each filet for two minutes. Add in the butter, chopped garlic, 3 tablespoons of parsley, remaining lemon juice, and lemon slices.  Stir the butter and garlic around each filet.
Continue to cook the salmon for a further 1-2 minutes, or until salmon reaches desired doneness.
Taste test and season with salt and pepper to your tastes, and add more lemon juice if desired.
Garnish with the remaining parsley and drizzle the butter over each filet.
Get our Top Stories delivered to your inbox
Recommended articles
DIY Recipes: How to make Banana chips
Here are 7 foods you need to eat for increased sexual stamina
5 reassurances your girlfriend needs to hear regularly
4 common habits of couples who have great sex
7 different types of women you are likely to meet in bed
6 ultimate hacks to acne facial scars naturally
The 7 types of breasts you are likely to encounter in life
5 ways to have more mind-blowing s*x in your relationship
DIY Recipes: How to make Egg bread