Country singer apologizes to Nicki Minaj
No bad blood as Taylor Swift swiftly apologizes to Nicki Minaj after their heated fight on Twitter on July 21.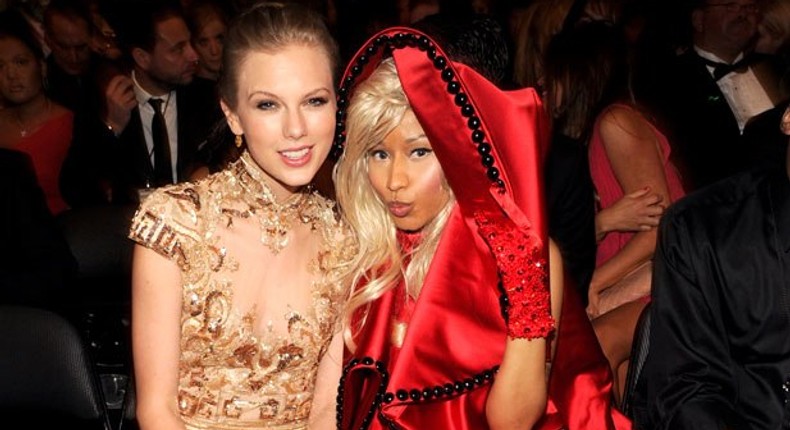 The 'Bad Blood' singer took to Twitter on Thursday, July 23 to apologize to Nicki , a full two days after the two women set off a star-studded feud over the MTV Video Music Awards.
We previously reported that Swift swiped at Minaj on Tuesday, July 21, writing "@NICKIMINAJ I've done nothing but love & support you. It's unlike you to pit women against each other. Maybe one of the men took your slot.." after the rapper called out the VMAs for her lack of nomination in the Video of the Year category.
The "Anaconda" performer, 32, took issue with the awards show excluding her from its highest honor, writing, "If your video celebrates women with very slim bodies, you will be nominated for vid of the year. I'm not always confident. Just tired. Black women influence pop culture so much but are rarely rewarded for it."
Swift, whose nine-times-nominated "Bad Blood" music video features a bevy of thin supermodels, assumed that the words were about her and weighed in immediately.
After Minaj explained that Swift had missed the point, adding, "U must not be reading my tweets. Didn't say a word about u," Swift walked back her earlier statement, tweeting, "@NICKIMINAJ If I win, please come up with me!! You're invited to any stage I'm ever on."
The exchange between the hitmakers inspired Katy Perry – long time rival to Swift – to weigh in too. She tweeted:
JOIN OUR PULSE COMMUNITY!
Recommended articles
KiDi receives massive welcome at alma mater, donates ₵15k
'Go to hell, it's my church' - Nana Agradaa defends sale of church membership form (VIDEO)
Dive into Ria Boss' World with debut live album 'Remember'
Kwaku The Traveller's video is the vibe - celebrated American music producer says
Akufo-Addo will go to hell for lying to Ghanaians - Kwaku Bonsam
Gospel music artiste Ruth Adjei releases single titled 'Matchless father'
Rihanna has given birth and details drop online
'I won't call myself Christian again' - Praye Tintin shares experience with fake pastors
Kumasi doesn't have spacious cinemas, can't premier my movie there - Yvonne Nelson