Singer shares her story, inspiration on CNN
CNN African Voices on their latest edition catches up with the fiery, talented Mavin sweetheart and first lady Tiwa Savage.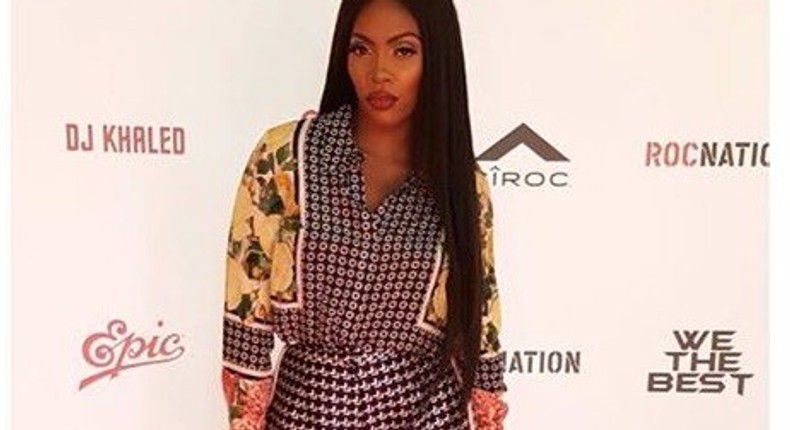 Superstar Mavin singer Tiwa Savage is the latest prominent Nigerian to be featured on CNN's African Voices.
The singer has come a long way from singing in a church choir to doing back up vocals and writing songs for international music superstars, to evolving into her own brand as a bonafide African diva singer and songwriter.
Taking the CNN My Africa(African Voices) crew, through her humble beginnings,  to her alma mater, South School, Idi-araba, in Surulere, mainland area of Lagos, she reminisces on the good memories as she tells CNN.
"This is kind of a little bit emotional for me because as soon as we stepped here, so many memories, great memories," she recalls.
Tiwa then met with the young school kids, and had a photo moment with them.
She talks starting music with her father and putting God first in this interview.
"I  grew up in this church,, We used to come every Sunday," she recounted as she walks hand-in-hand with her aged father through the aisle of a certain Methodist church.
"I  remember I used to see the choir as they used to sit in these pews with these lovely gowns and I remember I used to like, just belike, man I can sing, like I wanna be part of it," she explained, and how she came to audition.
She then narrates an embarrassing story of  how she came for auditioning with the choir, and how she assumed that after that one time audition, she was already a choir member and was going to be singing the next Sunday in church.
"So the next Sunday, I come to church, and I go straight to he back, put on my robe, and I'm like, you know, waiting with everybody else. And the choirmaster is like. What are you doing? And I'm like, I 'm ready to pray, I'm ready to do praise and worship, and she was like , No, no, no, no, no, it takes longer than that, and I was so embarrassed because everyone was looking at me like, Oh my days, she just got told! so I had to take it off and come back and sit, And I'm looking like, when I am ever going to sing in the choir," she remarked saying it was good and that it humbled her.
CNN notes that Tiwa Savage's career didn't take long to kick off, as she was singing back up vocals for late pop icon, George Michael, and how she yearned for home.
Tiwa tells CNN, "When I moved to LA, I met so many people, I met Fantasia, Monica, Babyface. You know, I wrote songs for Akon, Cat De Luna, a lot of people". She also tells CNN about how the natives in America were surprised to know she was African, when they would ask questions and she replies her name is Tiwa.
That was the defining wake up call for the Mavin singer to return to Nigeria, as she recounts "It was like a switch, a light bulb, Like these people are interested in where I'm from, and I'm running from it, does that make sense, and I was like, what I'm doing."
Though she recalls that it wasn't a smooth ride for her on returning to Nigeria, saying she got a lot of discouragement about being a female artist in a male dominated industry, with arguments that female musicians are not marketable.
"And that rebellious side of me came out to try and prove people wrong, that female artists are huge in other parts of the world, and it shouldn't be any different in Africa," she tells CNN.
She then takes CNN to her second home as she calls it - The Mavin Records studio. She jokingly adds,  "This is where I work, I come in the morning, I get my bucket, my broom, clean the toilets, cook the food  for everybody..nah I'm just kidding" (Laughing).
"This is where we cook the hit records , Don Jazzy's home, all of our home", she enthused, as she takes the crew in, adding that it was right timing, as she was working on a new song, giving them a teaser of the song.
She ends the gripping interview with the quotable self-advice "Believe in yourself, believe in Africa."
Recommended articles
If Baba Rahman can still play full 100 mins then I can play for Ghana - Sonnie Badu
I'm proud of Ghana - Ama K. Abebrese celebrates Black Stars despite loss
Why would Otto Addo change the winning team?- Delay reacts to Ghana's starting lineup
'Dede Ayew should stay in Qatar' - Serwaa Amihere reacts to Black Stars' penalty miss
Owusu Bempah and 6 others discharged in Nana Agradaa 'death threat' case
Ghana vs Uruguay: I wish Asamoah Gyan was playing today – Lydia Forson
Ghana vs Uruguay: This is a must-win for us - Fancy Gadam
Gyakie to share stage with Chronixx and other top Jamaican musicians in London
Angry A Plus calls NPP gov't 'useless' as he laments over GH65,000 court fine