Ghanaian man beats friend to death over goat soup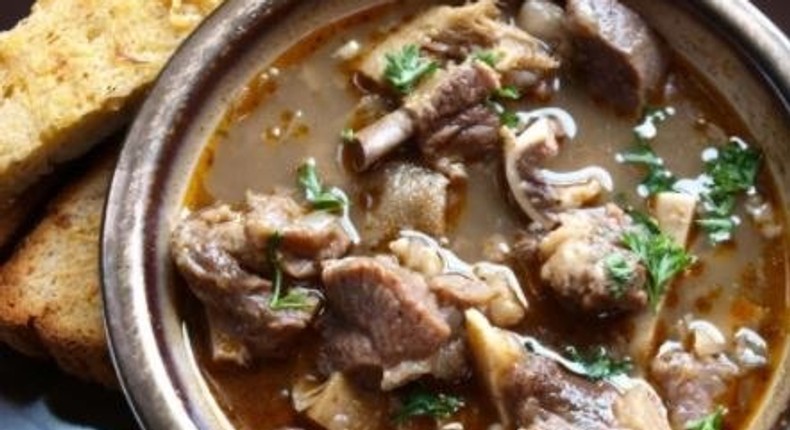 According to adomonline.com, the incident happened at Sehwi Paboase in the Sehwi Wiawso Municipality of the Western North region.
It is reported that the suspect, identified only as Azulay, hit the deceased, also identified as Buley, on his head with a stick, causing him to collapse, and was pronounced dead at the hospital.
The two, who are reported to be close friends, did everything together in the community, including the consumption of abandoned dead animals, the news website reports.
They always look for a dead animal, prepare it, and share the meat.
The assemblyman for Paboase electoral area, Simon Okom, is reported to have said that a resident gave the suspect and victim a dead goat recently, over which a misunderstanding ensued.
Azulay felt cheated because his suck was used to carry the dead goat, and he was expecting to get a greater share of the meat.
Although the misunderstanding was resolved, it resurfaced and caused the hitherto good friends to attack each other with cutlasses and sticks.
In the course of the attack, Azulay struck Buley's head with a stick, causing him to be unconscious. He was pronounced dead at the Sehwi government hospital where he had been rushed to.
The body of the deceased has been reportedly deposited in the morgue of the same hospital.
Recommended articles
I was stranded – Man, 64, jailed 12 months for sleeping in John Paintsil's house cries (video)
Stop meddling in our local politics – Minority to World Bank Country Director
Nogokpo shrine cannot kill Agyinasare — Prophet Salifu Amoako
National Cathedral doesn't belong to any individual but Yahweh — Duncan-Williams
Ernest Yaw Anim sworn in by Speaker as new Kumawu MP
I was 203 years old before Jesus came - Pastor who has 46 wives and 289 children
We'll approve Justice Torkornoo as Chief Justice - Minority
Ghanaian who spends GHC700 on lottery weekly reveals how much he's won since 1983 (video)
Newly commissioned Ghanaian Catechist dies after feeling dizzy while preaching